Christmas themed pillows become cuter and cuter as the years go by and it seems like most stores carry them now. It's hard to narrow down which few you'd like to add into your home because the selections are huge which is why I've put together this guide of fun, cute, trendy, and staple type pillows so you don't have to!
I've done the research for you and amalgamated a guide on where to find the cutest ones!
Pin for Later: Christmas Pillows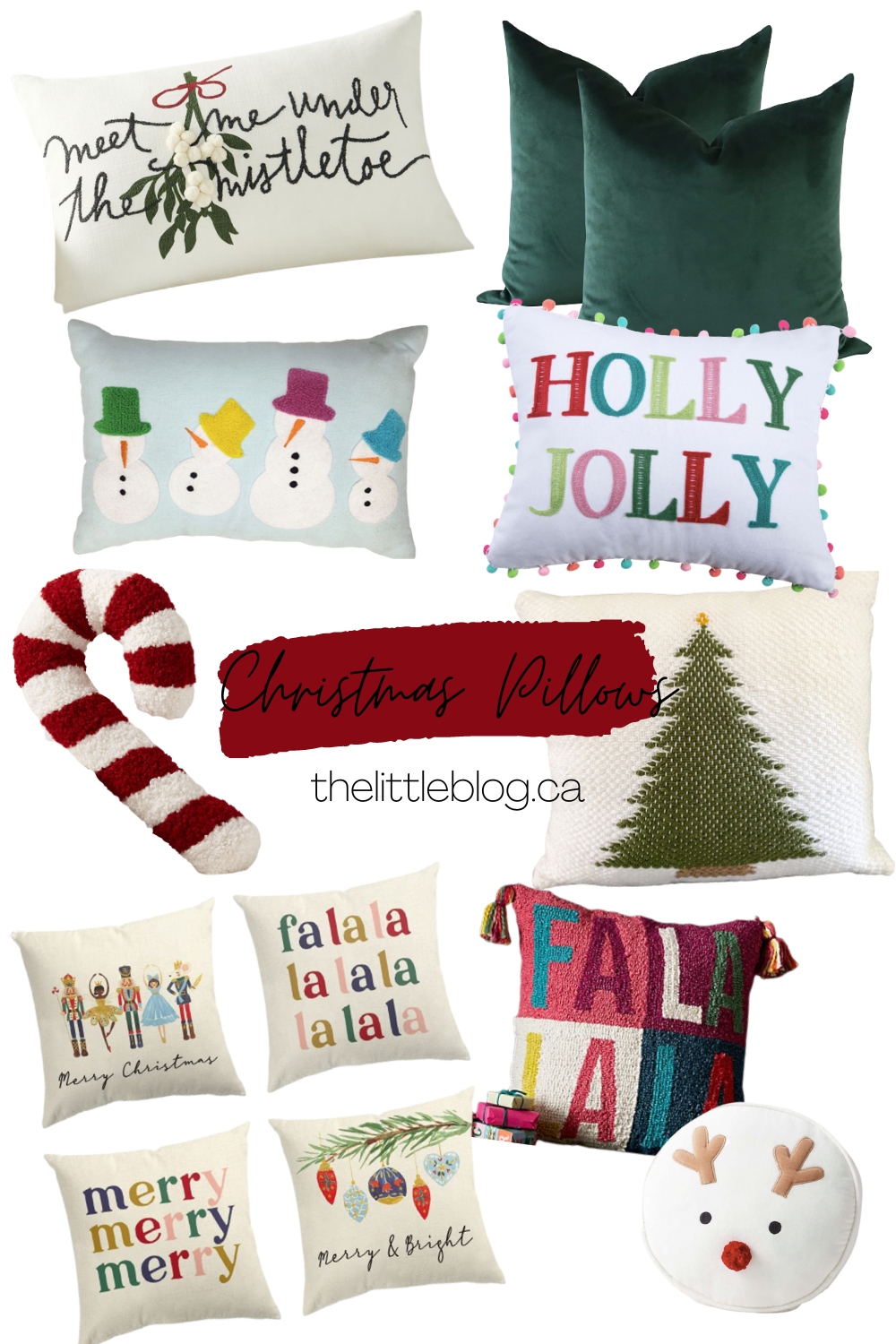 On-Trend Pillows
Amazon is amazing we all know that, so lets start there! The price point and selection of pillows was overwhelming great. Here are my fave finds from Amazon that are definitely on the bold and bright colour trend this year. These came in a pack of four for just $27.99. These are definitely on-trend but can pass for year after year for a child's room because of how fun they are!
Next up for trendy, we have a pillow from Athropologie because if anyone can do an on-trend Christmas, it's them. These pillows give all the bright and boldness you need this year to be right in line with what's popular. They're bright, bold, and so, so adorable. A little on the more expensive side, this pillow is $150.
Another cute, trendy pillow is from Bed Bath and Beyond. How cute is this one for a play room or child's room? This one is $54.99.
Cute & Classic Pillows
If trendy isn't your thing and you're more of a classic home decor person, these next ones are for you. The first one is an absolute fave from Pottery Barn because they do cute and classic year after year. This candy cane pillow is $84.
This next one is absolutely adorable and it's from Etsy so you're getting a win-win here by supporting small shops! This pillow will be cute for every year to come and it's $21.57.
When you think classic Christmas colours, a rich, velvet green should be right up there. It's classic, will never go out of style for years to come, and such a simple staple colour to have in your home this time of year. These beautiful green velvet pillows are from Amazon. Again at a great price point, for the both of them, they're $21.95.
Another Etsy pillow that will stand the test of time is this one. I love how beautiful and simple it is – you'd be able to put this little guy anywhere! This pillow is $55.
This little guy is definitely a classic with the snowmen and it's the cutest little thing. This one is from Bed Bath and Beyond and is only $22.
Simple Year After Year Pillows
Pottery Barn is such a staple for those home decor pieces that you want to have for years to come. Meet Me Under the Mistletoe is such a classic that you'll be able to enjoy it's beauty each year to come. This one is $99.
Okay, secrets out, Pottery Barn is my jam. I've always loved everything they bring out and the holidays are no different. This white stunner is so incredibly simple it speaks for itself. This pillow is $84.
Last but not least we have this cute little reindeer pillow from Crate&Barrel. How cute and simple and just perfect for that little touch of playfulness. This pillow is $54.