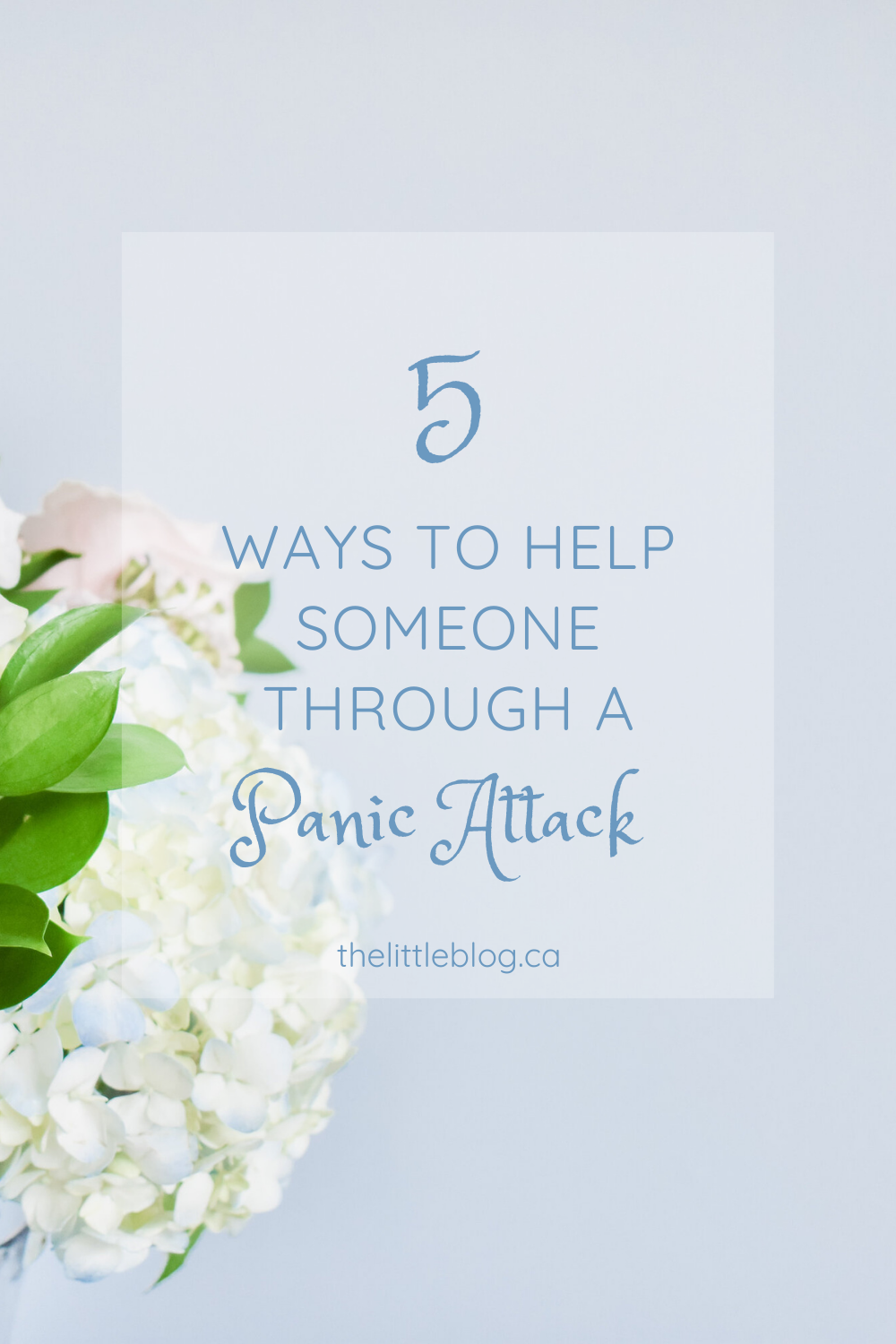 Happy Tuesday, everyone! As I mentioned in February, I'll be chatting about a mental health topic once a month! February's post was about finding the right therapist for yourself and for this month, I thought I'd chat about panic attacks. More specifically, how to help someone through one.
Panic attacks are relatively new to me. They began back in October and I've had some pretty bad ones in not so ideal times. I thought about panic attacks from my husband's perspective though and how he's helped and thought that maybe I should share what he's done because it's worked.
I am not a professional and these are techniques that have helped me, but find out what those around you who experience them may need.
Tips For Helping Someone Through a Panic Attack
Below are some things that my husband has done for me that have helped pull me through an attack. Sometimes all of them work, sometimes only one.
Below are 5 things you can do to help someone through an attack:
1. Give Them Space
Sometimes when someone is experiencing a panic attack, the best thing to do is step away and give them space. Having an attack can often feel like the world is closing down on the individual. Giving them space may allow them to catch their breath and not feel so closed in. Some people may need the opposite, however. Sometimes human contact and being held is what they need. In my circumstances I don't like to be touched and prefer space.
2. Make Eye Contact
Making eye contact (even if you've stepped a few steps back) can help that person focus on your eyes. Giving them something to focus on may slower their breathing. When this has happened to me, my husband has said my name and told me to look at him. By staring into his eyes I have been able to give my brain something else to focus on instead of the closing in feeling.
While you have their attention, also remind them to inhale deeply and take big breaths to fill their lungs with oxygen. Inhaling deeply combats the hyperventilating and will help them come down from the attack.
3. If Available, Provide Water
Having water to sip on will again give the person something else to focus on. Small, short sips can bring them down and help with the longer breaths. If they don't want any, also don't force it.
4. Let Them Experience the Full Attack
It's important to let the person experience the full attack. Which sounds counter productive but trying to stop them may make it worse. I know from experience that when I begin to have these attacks I need to experience the full effects. Otherwise it begins all over again shortly after. Riding it out with them is the best way to finish it.
Ask them what they need from you. If they can't respond, stay with them and be empathetic. Allow them to finish their attack and offer any help afterwards.
5. Allow Them to Come Back Down
Having a panic attack quite simply drains you. You feel extremely heavy and both mentally and physically exhausted. Give the person a few minutes to catch their breath and reconnect with their surroundings.
Sometimes it can be a quick turnaround and other times it can take longer depending on how bad the attack was. Let them tell you when they're ready to move.
What Not to Do
Don't tell them to calm down or that it'll be over soon, and don't act like it's an inconvenience to you. This won't help the situation but only make it worse.
Above anything, offer support and ask what you can do for them if and when this happens.
I'm super lucky that my husband has been with me when I've had these or has come to check on me when he isn't. I've personally never helped anyone through this experience and don't think I would know what to do if I came into the situation. I hope this post gives some clarity on what you can offer someone if they need you during a panic attack.
Have you ever helped someone through a panic attack? If so, what was your experience like?