Another Gift Guide coming your way for all my sustainable living friends!
I curated this guide with items I've either purchased myself already or have on my wish list to slowly add into my household.
As important as it is to make our transitions where we can to a have more sustainable lifestyle, it's also important to remember that everyone has different paces and capacities to make these changes. As always, I'm a firm believer that even taking small baby steps towards sustainability are still steps forward.
My goal for the future is to give a sustainable gift at least three times a year for whatever reason. How cute would a sustainable gift basket be for a new home owner?!
Happy eco-friendly shopping, my friends!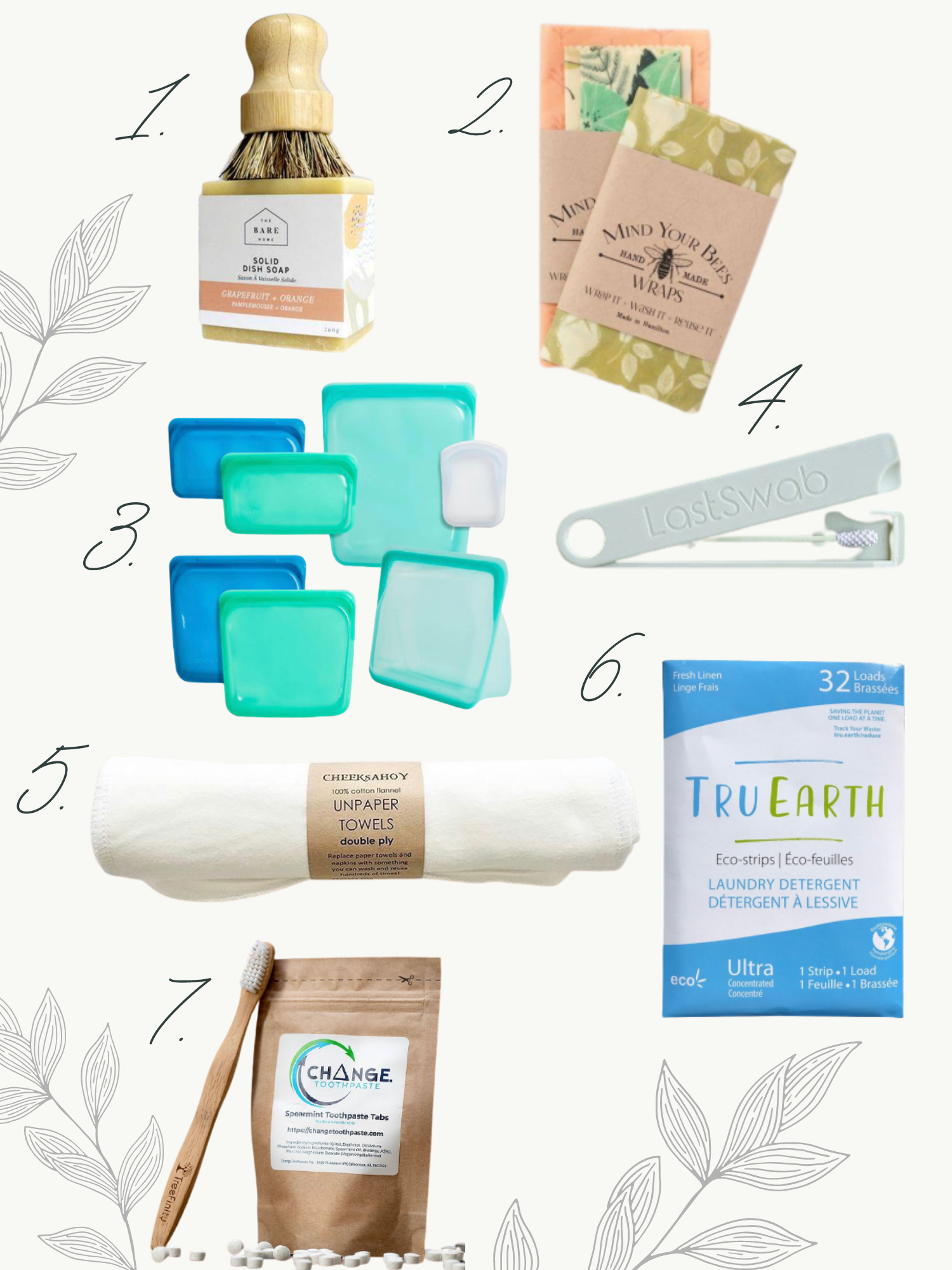 This Canadian owned company is everything you've been looking for when it comes to cleaning your home with a sustainability mindset. The Bare Home has a beautiful dish soap cleaner that can last for 4-6 months and is definitely an item I have my eye on!
You've probably seen these by now, they are the famous beeswax wraps that replace that annoyingly one-time use of plastic wrap! My family was big on plastic wrap to keep foods fresh and it pains me to think about how much we've used over the years, but my goal is to get these bad boys in all of my family members homes for them to try too! You can find them a little easier now, but these ones are from Mind Your Bees – another Canadian company!
Ever think that ziplock bags were a problem? I didn't until I realized just how wasteful they can be. Convenient, of course, but how often do we really re-use them? Stasher to the rescue! Get your hands on these reusable baggies that are microwave and dishwasher safe! Stasher has so many different options for sizes and lots of pretty colours to choose from, too.
More Amazing Products
This company, LastObject is making moves for the sustainable world! Take a look at their q-tip replacement and think about how many we use that can be replaced with just this one. Pretty amazing, huh! They have other great objects like their last tissue, as well. This is another goodie that I plan on bringing into our home!
Paper towels can be replaced with unpaper towels from Cheeks Ahoy! Ditch the one-time use of wiping things down and replace them with a more sustainable option. Keeping things tidy while saving the planet at the same time!
I was introduced to Tru Earth from an Instagram ad! I no longer use dryer sheets and have since replaced them with whool dryer balls (which are so good)! But even still, I'm trying to level up my laundry game even further. Tru Earth makes strips of laundry detergent that replaces pods that release little plastic beads that go into our water! Pretty incredible if you ask me. These strips also replace 700, 000, 000 jugs of detergent going to landfills – holy smokes!
One day while brushing my teeth when it occurred to me – how wasteful are toothpaste tubes? It's probably the one universal thing that everyone uses so the waste from them must be incredible! I stumbled upon Change Toothpaste though and hooked! Little toothpast tablets without the waste! Shaun and I have been using them for a while now and we absolutely love them. For a change that I thought would be rather difficult, there's no going back to tubes for us! Also, Canadian made in Alberta! Woohoo!
Gifting any of these items even as stocking stuffers helps with the conversation of sustainable living and can introduce people to new things!
Did you discover any new eco-friendly items from this guide?
Also, I had another gift guide go out yesterday on small shops. In case you missed it, you can check it out here!