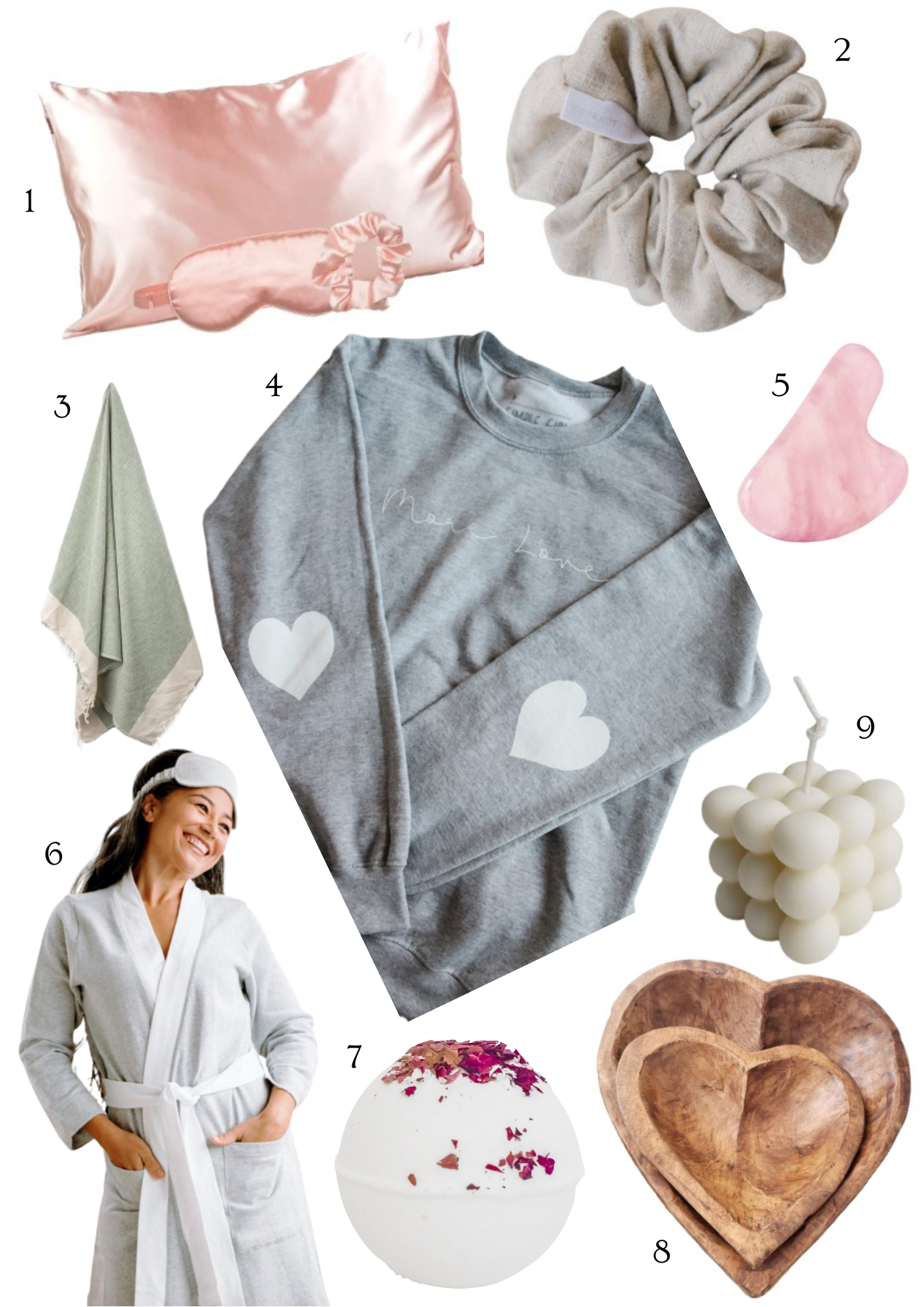 Spoil your self this Valentine's Day!
Sure, gifting for others always sparks a special kind of joy but honestly, I feel like we could all use a little extra love these days. I've rounded up 9 things that I absolutely love in hopes to give you some ideas to splurge on you this Valentine's Day!
Some can be purchased and used everyday or maybe put aside for future use. You can do like I do and purchase items specifically for your Self-Care Box and you can read about here. I save items that I know I'll love for those moments when I need an extra little pick-me up.
I also think it's worth mentioning that all of these items are coming from local, Canadian shops. We all know how important it is to shop local these days so let's keep doing it as best we can.
Now, let's get shopping, shall we?
1. Blush Satin Sleep Set
Sleep has been a funny thing during this pandemic. If you're like me, you've had nights of tossing and turning and being up all hours of the night. In a time where our beds have become quite the space these days, treat yourself to a luxury sleep set that will help you with those Z's!
2. Natural Linen Scrunchie
Days at home mean constant top knots, right? Just me? Linen is all over the place these days so why not treat yourself to these adorable natural linen scrunchies to make that top bun cute!
3. Cotton Wood Towel
Level up that shower or bath game by adding these beautiful cotton towels into your bathroom. They look so well made and can add the perfect touch of colour compared to those plain white towels we use.
4. Love Sweater
Well, there's no denying that we're all in loungewear a little more than usual these days, so why not make it cute? I found this adorable sweater that says "more love" with a heart on each sleeve. Perfect for Valentine's Day or any day after!
5. Gua Sha Face + Body Tool
Personally I haven't dived into using any facial tools just yet but they're on my radar to try. Add these tools into your morning and night routine to take your skin to the next step. Get that glowy, perfect skin using this Gua Sha for a Valentine's Day at home.
6. The Robe
I've had this robe on my list for years! Seeing them in person at a market a few years ago, I'm still thinking of it. It's the perfect "work from home" or lounge robe with its 3/4 sleeves that actually let you do all the things without the annoyance of long, annoying robe sleeves. If you treat yourself to anything here, let it be this. You will not be disappointed.
7. Bath Bomb Gift Set
Firm believer that self-care goes hand-in-hand with baths – at least for me it does. I couldn't do a self-care gift guide without adding my very own bath bomb box from my Etsy shop, Bath Buddies. Add a bath bomb in your solo baths or even with a buddy on Valetine's Day. We're not going anywhere anyways, so hop in the tub and spend some quality time there together.
8. Heart Shaped Wooden Bowls
From one of my absolute fav local shops in Oakville come these beautiful handcrafted heart-shaped bowls. Not only perfect for Valentine's Day treats, but anything after the day, as well. They are such a beautiful colour wood as well that they are sure to match any home aesthetic and decor.
9. Massage Bubble Candle
Probably one of the most unique candles I've ever seen, how cute is this massage bubble candle?! Perfect for lighting in the evening or simply adding it to your favourite space in the house because it's just the cutest little thing ever!
If you're looking to purchase something for yourself that's more intentional for physical and mental self-care, take a look at my favourite Yogi from Lumos Yoga & Movement who's offering a self-care yoga series this month!
I hope that whatever you do during February and on Valentine's Day, it's something that brings you love and joy! If you end up purchasing any of these items, be sure to let me know! I'd love to see what you treated yourself to.