Were you that girl (or guy) that dreamed of the day you'd get engaged? I definitely was. I thought I would know when it was going to happen as well, but turns out, I had literally no idea.
The day you get engaged is a such a whirlwind. Emotions are flying at an all time high and you kind of walk around in a daze. The day we got engaged, I was in complete shock. I had no idea what to think or say, and truly couldn't believe it actually happened.
Today, July 21st, marks two years since my husband proposed and I wanted to offer some tips for the newly engaged!
1. Be in The Moment
When Shaun was down on one knee he had this look in his eyes that I'll never forget. His eyes were red and watery and he had the biggest smile on his face as he kneeled and looked up. I specifically remember thinking how handsome he looked in that exact moment and thought about just how much I loved him. If I could have frozen time, it would have been to freeze that moment. It was special, it was raw, and it was us.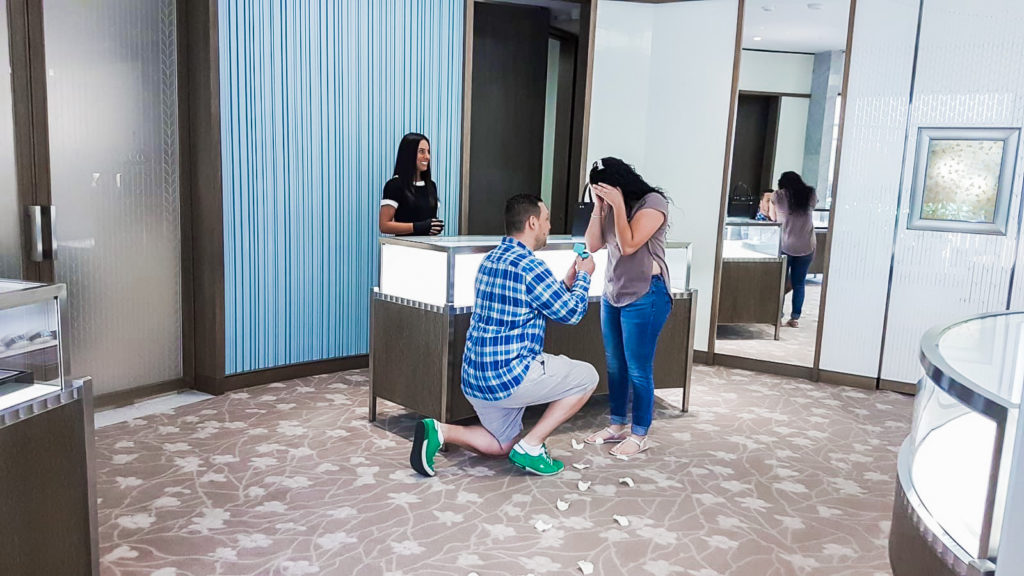 2. Embrace The Love Around You
Shaun proposed inside Tiffany's at Sherway Gardens Mall. We had walked in and the whole front of the store was empty except one lady behind the counter. Shaun walked me over to the display case and inside was my ring with a note saying, "To: Alexandra". After Shaun proposed and got up to hug and kiss me, the entire back portion of the store erupted in clapping and crying out happy well wishes for us. In the middle of the mall when we took a picture in front of the store, we had people walking by saying congratulations to us with big smiles on their faces. It was incredible, and I still couldn't believe it happened. Truly embrace those moments during and after because it all happens so quickly.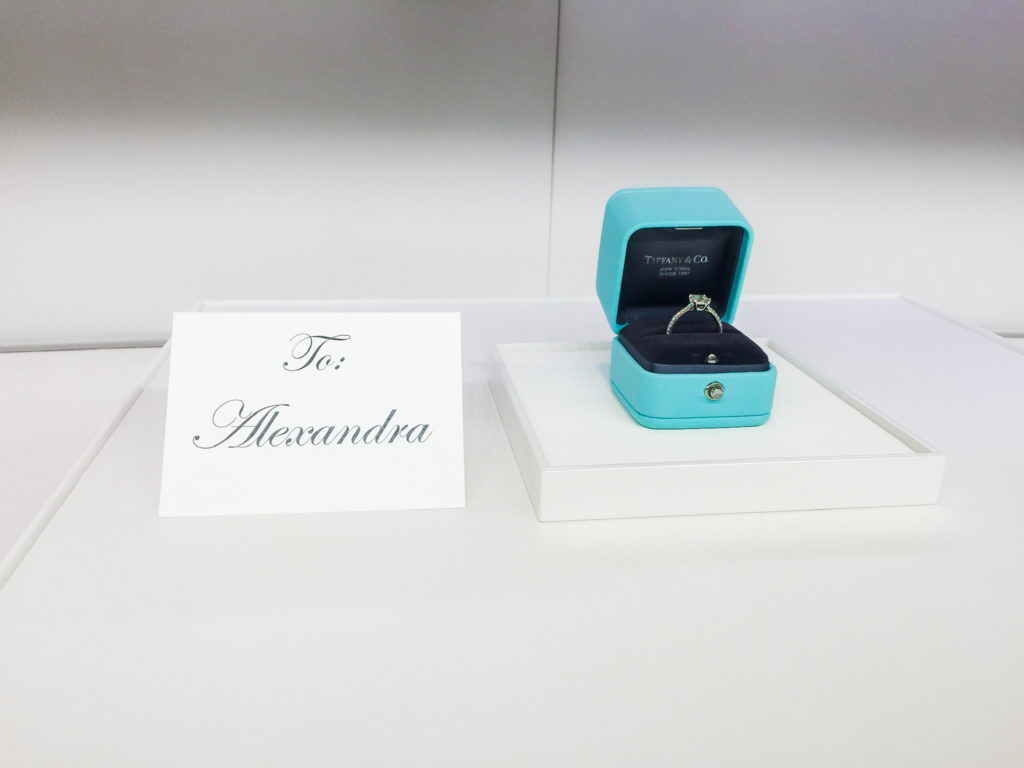 After we left the mall, we went straight to my parents' house. After that, we went to Shaun's parents'. And then we called my brothers, I messaged some friends, we went to Shaun's brothers, and I called my best friend. The amount of love that was surrounding us was incredible. The next day, we went to see our grandparents and extended family to keep sharing the news. Over those two days, I probably slept about 5 hours total. Love will do that to you.
3. Announce Your Happy News On Social Media
We chose to keep the news to ourselves and immediate family for the first few days. There was something special about those days after that felt so good, and just so happy. It was also important to us that our immediate families knew of our news before seeing it on Instagram. But, sharing your news on social media is just as special so when the time is right for you, definitely post your big news. The love will continue to pour out for the two of you and reading congratulatory comments is extremely heart warming.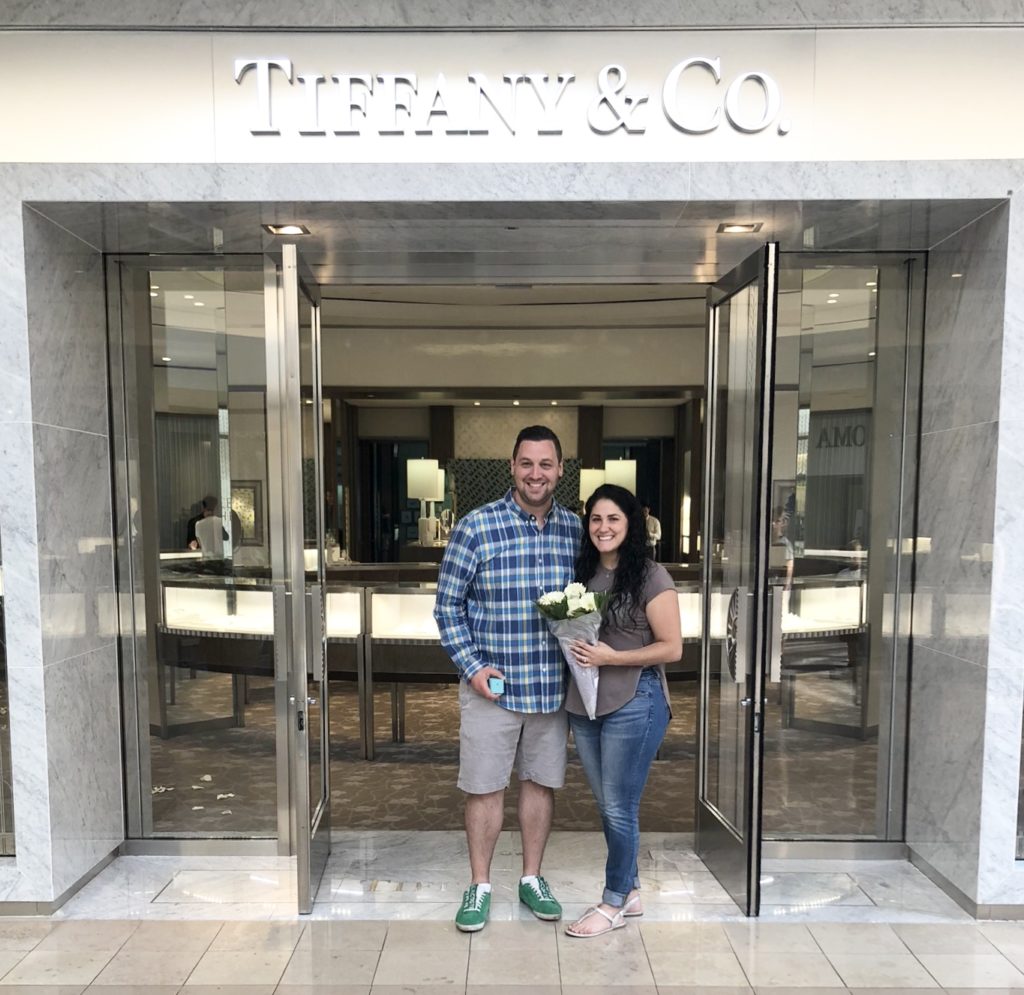 4. Begin To Brainstorm
There is no beast like planning a wedding. Whether your guest list is 50 or 300, the details that go into the day are intense. Upon our visit to my parents house that day, we already begun going over details. It's never too early to begin and you have to begin somewhere!
That very night we also stopped off at Shoppers Drug Mart before heading home and I picked up my very first bridal magazine. Pinterest is great for ideas, but bridal magazines are a staple in planning a wedding, even if they just sit as coffee table books. However, remember to step away from it all every once in a while, too. It can be stressful, and the process should be fun! Check out my post about my 5 favourite things I loved about planning our wedding, here.
Also, wine and baths pair very nicely with planning. Just saying.
The week after we got engaged, I also bought actual wedding coffee table books. My favourite was, Martha Stewart Weddings: Ideas and Inspirations, which you can find here. It gave me so many ideas and really taught me things like wedding etiquette. I also love having it now after we're married as part of our home decor. A nice, subtle reminder of our planning days.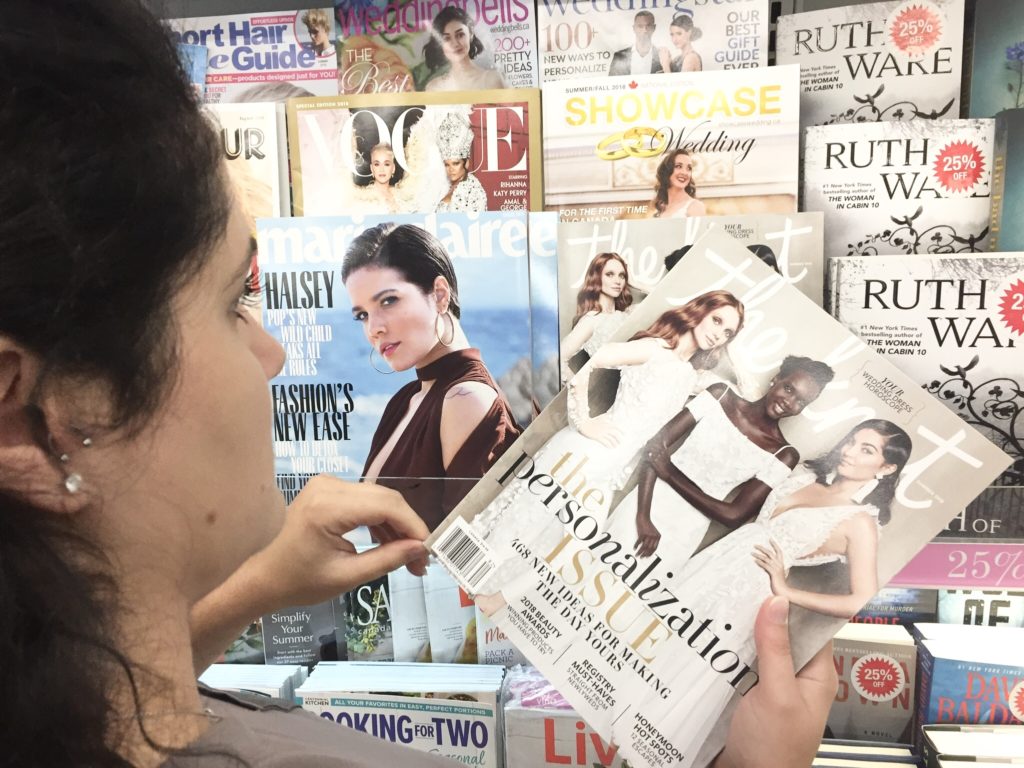 5. Get Your Nails Done (If They're Not Already)
The amount of people that will be grabbing your hand to check out your new addition is real. Mine weren't done that day but having a fresh set of nails celebrate your special occasion should be high on the list! Nothing can beat a beautiful mani to help show off your brand new diamond.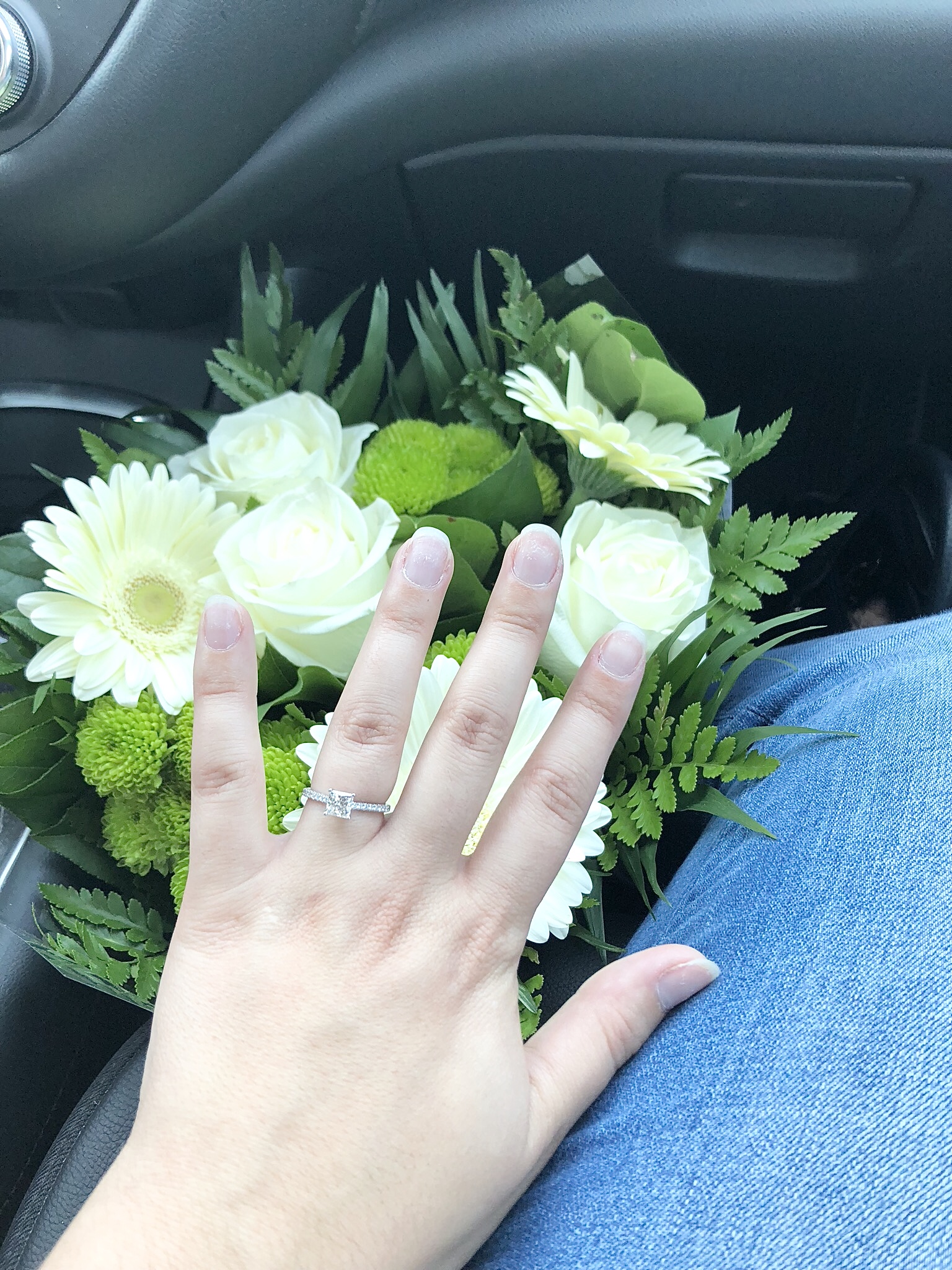 6. Buy a Wedding Planning Book
My mom bought mine and I absolutely loved it. Here's one from Indigo that looks like it does something similar to what I had! These planners help you think of things you probably wouldn't have before. Weddings are big on details and timelines so having a planner like this will keep you in check.
It also provides you space to really put your thoughts and ideas and helps build the vision you're looking for! I love looking back at mine now that we've had our wedding to see what we prioritized in the beginning to how we shifted some things during the process. It also truly makes a great keepsake, too. I lol'd a couple times when I went to look back at it after our wedding and saw my original wants and "needs". Spoiler alert, that list becomes smaller and smaller when you begin to see how much everything costs, lol!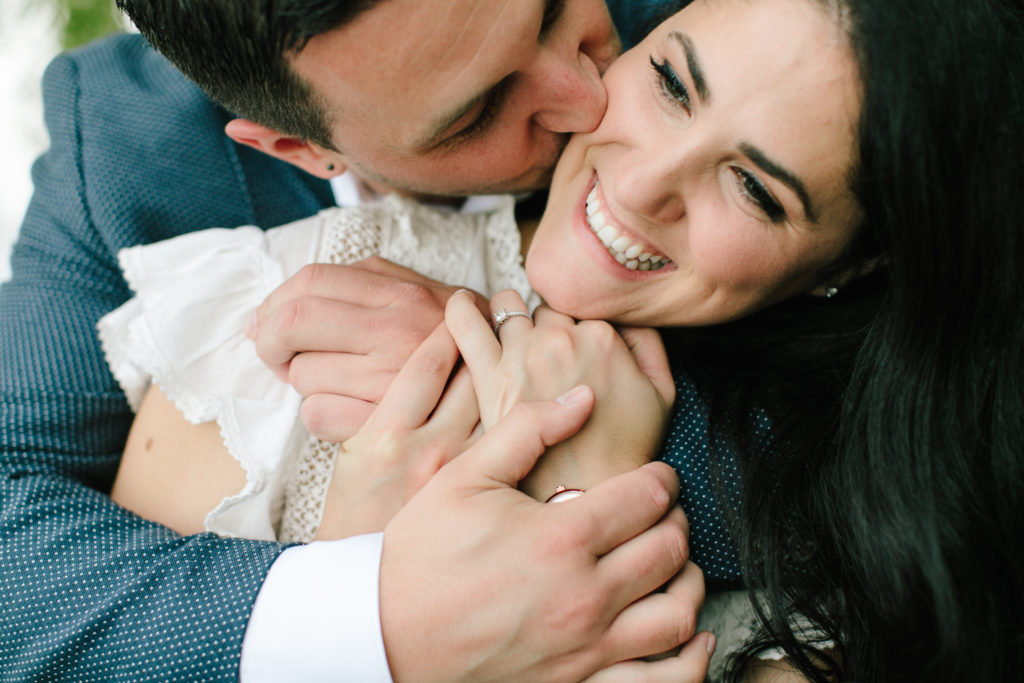 At the very end of the day and everything aside, it'll be one of the happiest days of your life. Embrace it, live it, and write down everything that happened to help you remember it.
Your engagement day marks a new beginning for you and your partner, enjoy the process. And remember, when the planning gets tough (because it will), just know it all comes together on your special day and every second will be worth it.
Are you engaged? What's the first thing you did after it happened?