The best local farms to purchase real trees, you ask? If real trees are your jam, this post if for you! This post has five farms in the GTA that you can go to that serve up beautiful, lush, and wonderfully scented Christmas trees.
Three of these farms I have been to and none of them disappoint and the others I haven't personally been but hear that they're just as great! Christmas trees also always spark the conversation of real or faux tree for the holidays, so tell me about which side you're on! Are you real or faux? Check out last year's Christmas tree post on the different sides!
Below are 5 farms you can visit to find yourself the perfect Christmas tree!
Pin for Later: Local Farms for Real Trees
Springridge Farm
One of our favourite local farms to adventure out to is Springridge Farm. They're located in Milton which isn't far at all. They have the coziest setups for you to take pictures with your family and really make an experience out of it. Right in front of the gift shop, there's a fireplace where you can sit and warm up and on the other side of the fire, there's a red truck surrounded by trees for a cute photo op. If there was any farm that is worthy of the gram, trust me, it's Springridge. It's an absolutely beautiful farm and one we go to throughout the year, too. This year, we purchased our Christmas tree from here!
Springridge is open daily from 9am-5pm
Check them out at: 7256 Bell School Line, Milton, ON L9E 0N7
Evergreen Tree Farm
Located in Guelph, Evergreen Tree Farm is just the place for getting your tree and spending the day with family. They offer free cider and the cane to roast marshmallows by the fire. They also have a quaint little gift shop should you feel like you want to purchase a little something to commemorate the occasion.
You can find them at: 7811 Wellington 22, Guelph, ON N1H 6J2
Evergreen Tree Farm opens for 2022 trees on: Saturday, November 19th
Drysdale's
There is a certain type of magic in the air at Drysdale's farm that I can't quite explain. When there's snow on the ground, that magic just gets amplified. Truly a beautiful farm with beautiful trees. It's actually where we purchased our very first tree for our first Christmas together in our condo and did it ever deliver the magic we were looking for. They also have the most stunning gift shop with all sorts of Christmas items available for purchase. If you're looking for the ultimate Christmas tree cutting experience, this is your place. They also have live carolling and face painting for the little ones. It truly is such a magical experience!
You can find them at: 6635 Simcoe County Rd 56 Egbert, ON L0L 1N0
Drysdale's farm is open for 2022 on: Saturday, November 19th
**Important to note that they are only open for tree cutting on Saturdays and Sundays**
Chickadee Christmas Trees
I haven't personally been to Chickadee Christmas Trees but from what I've seen, it looks like a beautiful farm that offers a variety of beautiful trees. A family run farm, Chickadee Christmas Trees offers a feel-good experience for you to come with your family and explore the beautiful outdoors. They no longer have a gift shop to help with being more environmentally friendly but that just means more time to search for the perfect tree.
You can find them at: 6639 Wellington County Rd, 34 Puslinch, ON N3C 2V4
Chickadee Christmas Trees are now sold out for the season but keep them in mind for next year!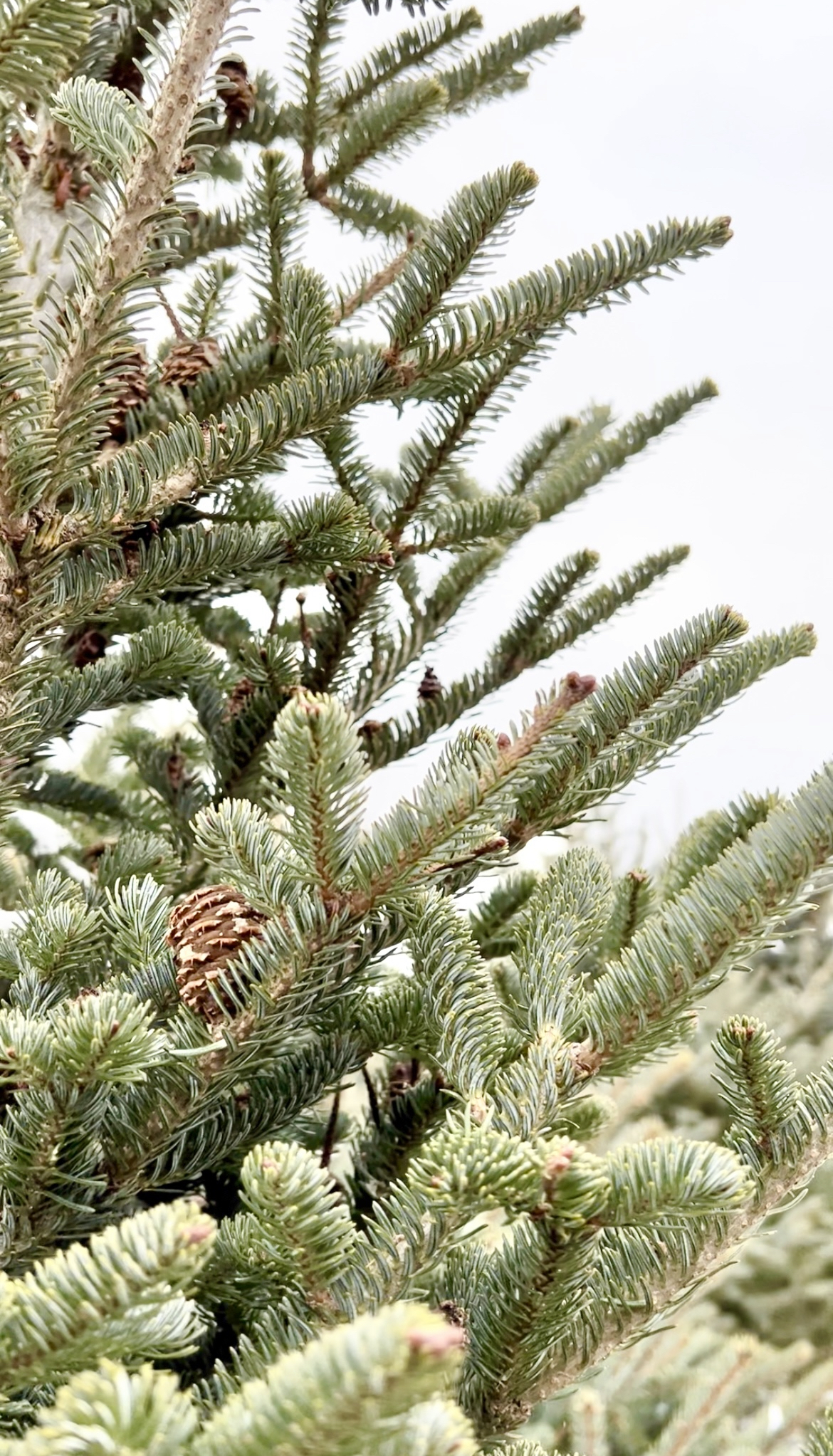 Clembrook Christmas Farm
We've gone to Clembrook Christmas Farm two years in a row now and it really is such a beautiful farm. There are trees upon trees and lots of room for you to move around with your family. Not to mentioned that they're pet friendly!
A spacious farm with friendly staff, Clembrrok Christmas tree prices begin at $45.
You can visit them at: 4231 Derry Road, Milton ON L9E 0P2 between Appleby and Walkers Line
Clembrook Christmas Tree Farm is now closed for the season but remember them for next year!
Do you get your Christmas tree from a farm?