Fall jackets are my actual weakness. I have the most of these in my wardrobe and I'm not mad at it. They're just so perfect for layering in the most unpredictable season. Typically I don't mind splurging a little more on these jackets if I know they're classic pieces and I can wear them years to come.
I've gathered 14 of the most beautiful fall jackets and put them all in one blog post for you to shop the perfect one. They're separated into three sections: Preppy & Badass, Comfy Over Everything, and Timeless & Forever Classics. You'll be able to see what store the jacket is from and the price it is too.
Happy shopping, friends!
Preppy & Badass
Zara: Gold Button Wool Coat
You can never go wrong with a coat from Zara. They seem to nail it every year with their fall lineup of wool coats and they just keep getting better and better. This black one is an absolute staple and I actually have a very similar navy blue one from a previous season.
price: $139
Dynamite: Balloon Sleeve Cocoon Coat
Dynamite is a great place for fall jackets and this white one is just too beautiful not to put in your line-up. Classic with a little prep. It's an absolute show stopper and everyone needs a crisp white jacket in their wardobe.
price: $139.95
Banana Republic: Double-Breasted Blazer
Although not a jacket but can still serve the same purpose, this blazer is an absolute stunner and perfect for brisk fall walks or coffee dates. It would pair perfectly with anything really and would be sure to stand the test of time and make a great come back year after year.
Price: $198
Simons: Loose Tuxedo Jacket
This sage green colour is all the rage and honestly, I could not love it more for a fall blazer option. It is such a perfect shade of green that can take you'd definitely be able to bring it into spring as well. Plus, blazer with pockets, hello!
Price: $49.95
RW&CO: Fitted Preppy Wool Coat
If there is one coat that screams fall that can perfectly transition into winter, it's this one. With its dark and rich wine shade, it's hard to pass this one up. Plus, it's on sale right now! Seriously, run don't walk. If I were to purchase any one of these jackets for myself, it would absolutely be this one.
price: $139.93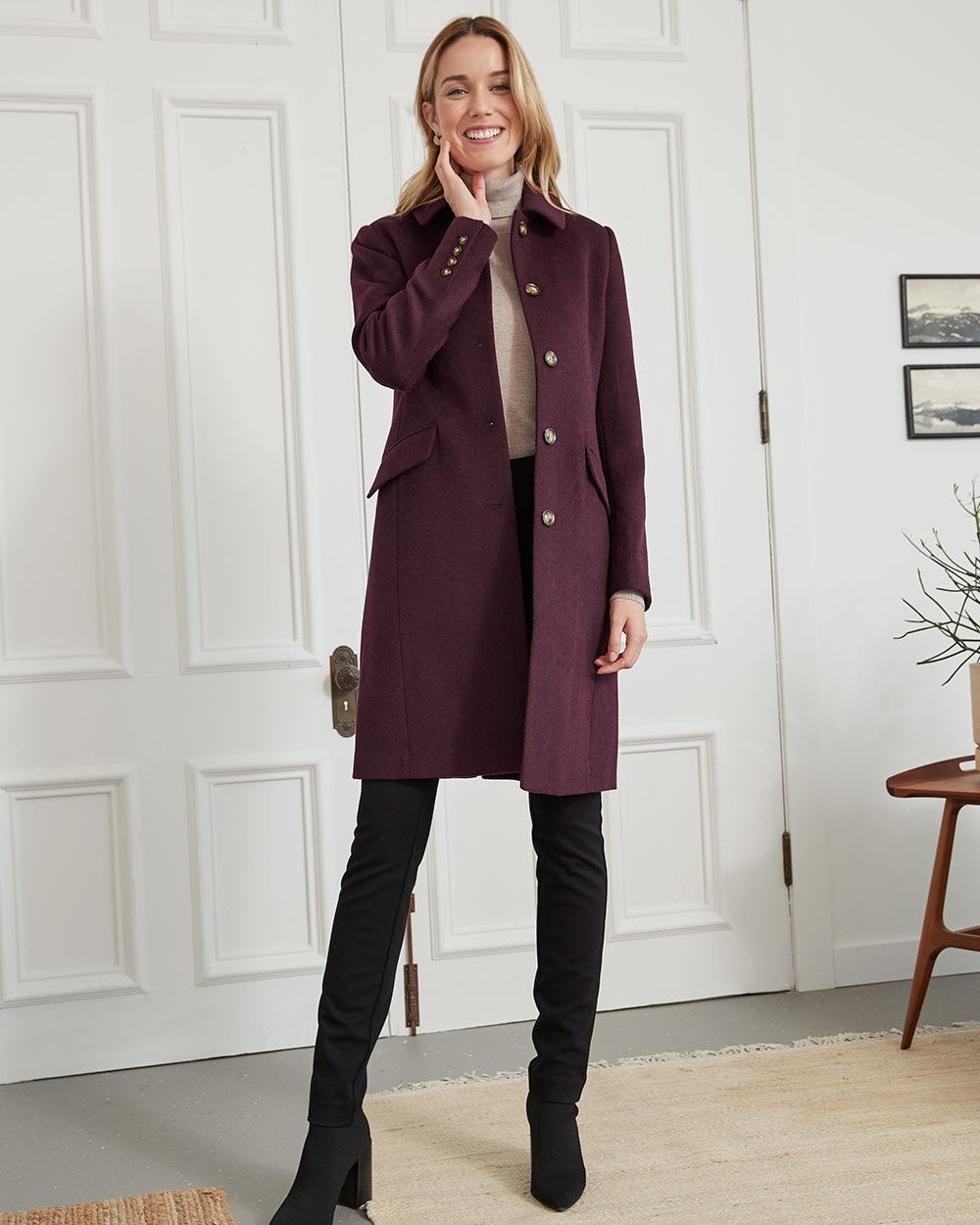 ---
Comfy Over Everything
H&M: Padded Hooded Jacket
If anyone has affordable coats and jackets, it's H&M. This puffer jacket is perfect for fall walks when the air gets thinner and brisk. Plus, that tie to cinch in the waist makes it a little more chic. Also another great coat to transition into the colder, winter days to layer up with.
price: $59.99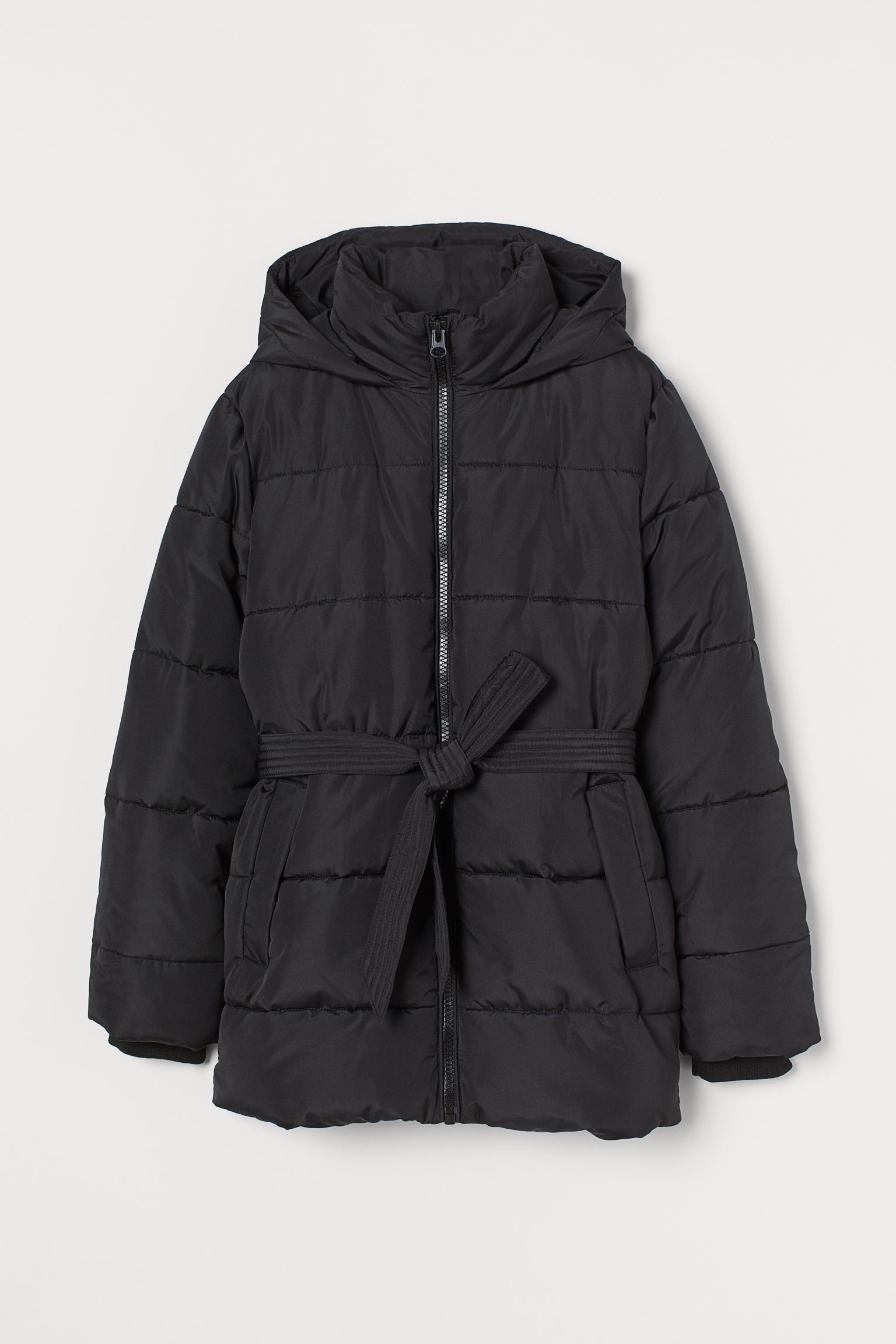 Aritzia: The Only Coat
We all know that Aritzia serves us with those fashion staples year after year and this fall it was no different. If you're looking for pure comfort and cozy vibes, this jacket is for you. Although a little on the pricer end, the thickness of the fabric will definitely keep you warm.
price: $378
Frank And Oak: The Sherpa Fleece Jacket in Off White
Fall is the perfect time for crisp but comfortable outfits and this jacket is just that vibe. You can dress it up or dress it down, it'll serve the most perfect fall vibes while staying cute and warm.
price: $149
The Bay: Detachable-Hood Quilted Jacket
I absolutely love this this coat, it's just so cute and practical. I picture evening walks with the puppy while still looking cute and but warm. Another timeless piece that won't date for years to come.
price: $179
American Eagle: AE Cropped Sherpa Shacket
If there was ever a trendy coat for fall, it's definitely this teddy inspired one. The fluffiness of it just screams cozy and who the heck doesn't want that in the fall?
price: $99.95
---
Timeless & Forever Classics
M Boutique: Vegan Leather Moto Jacket
If you don't have a vegan leather jacket in your closet, are you even doing fall right? An absolute classic that comes back year after year is this bad boy. The detail on this one is so beautiful and this jacket is absolute perfection.
price: $89
Old Navy: Oversized Soft-Brushed Button-Front Coat for Women
If there was one colour jacket that I've kept seeing this season, it's this one. And what a beautiful coat this one is. You could dress it up or keep it casual but it's one that you'd be sure to get so much wear out of season after season.
price: $84.99
Gap: Utility Jacket
Similar to the staple leather jacket, this utility style one has come back so many times that I'd be surprised if you didn't already have it in your closet now. But this jacket is just too perfect for fall it doesn't even need an explanation.
price: $99.95
Urban Outfitters: BDG Tia Denim Varsity Bomber Jacket
Everyone needs a jean jacket in their closet and this one has a cute little twist to it with the stripe details. It can transition into spring as well and will definitely be cute how ever you style it.
price: $129
Anthropologie: Longline Plaid Blazer
I. Love. This. Coat. Period. It is just so beautiful and an absolute show stopper for fall. The different plaid colours just gives it that edgy look that is most definitely perfect for the fall season and could even be worn in the winter months.
price: $248
Are you a sucker for fall jackets too? Did you love any of these options?