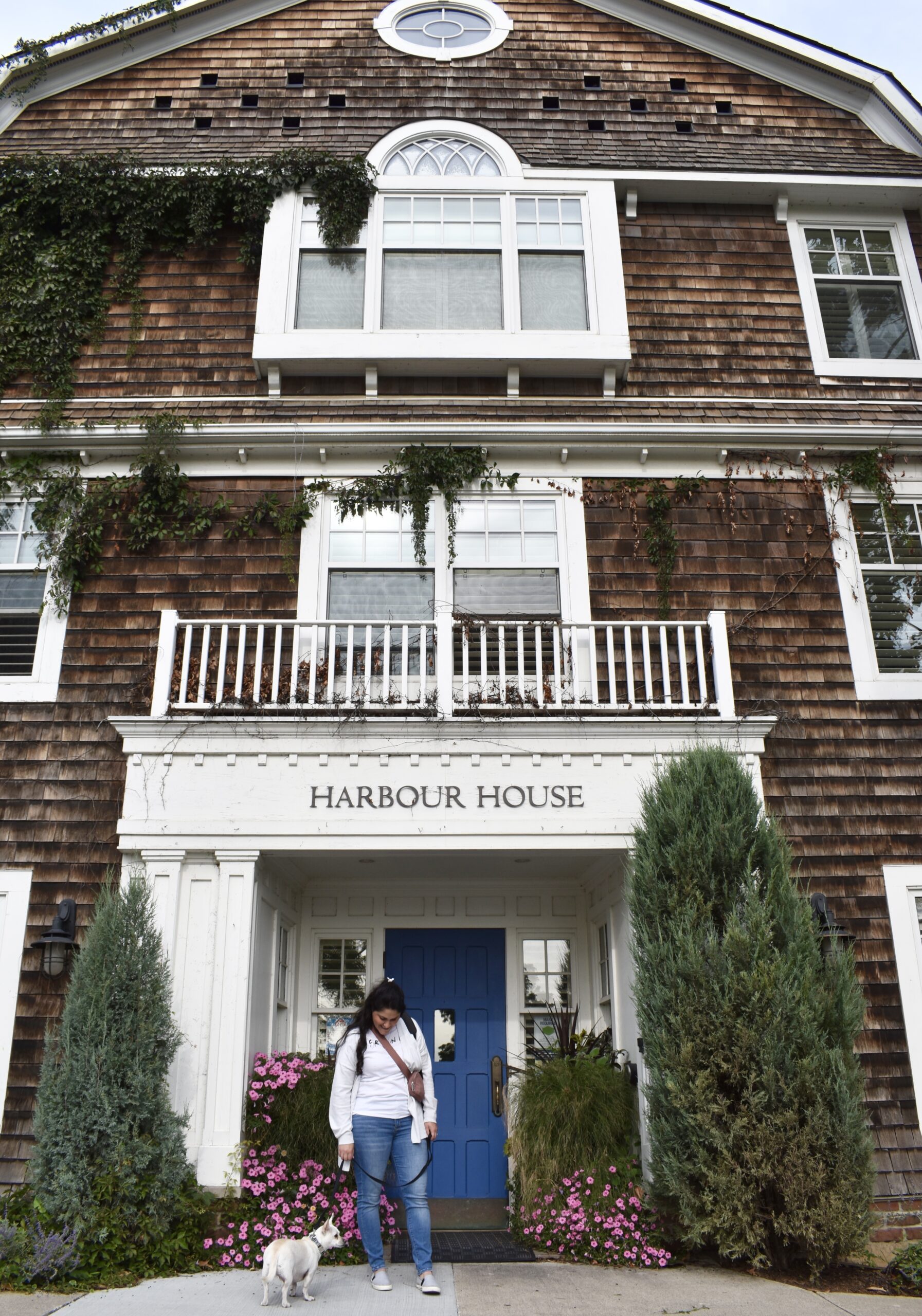 Looking for the perfect getaway to rest and recharge? Niagara-on-the-Lake is quite the place and may just be a little slice of heaven.
Let's face it, times are stressful right now. Whether in your personal or work life, the state of the world (or at least Ontario for my locals), can just be too much in some moments. For a hot minute, it seemed like wherever you went, whoever you were with, Covid was at the forefront of all conversations. And even despite Covid conversations, just getting back to some kind of normalcy has taken a toll on people.
At the beginning of the Summer, Shaun and I decided to look into a getaway weekend for our anniversary in September. We looked at everything from cottages to air bnbs but eventually landed on Niagara-on-the-Lake and am I ever glad we did. We knew that wherever we were going though we wanted to bring Parker with us. We thought it would be fun as we've always talked about going on road trips with him and this seemed like the perfect opportunity to get our feet wet with traveling with him. For those that may not know, Parker is our puppy. We began to quickly look into hotels in that area that were pet friendly and all signs were pointing to Harbour House.
Discovering Harbour House Hotel
We've both been to Niagara-on-the-Lake before but never as an overnight vacation visit. Looking for a place to stay wasn't difficult but once we noticed that Harbour House offered pet friendly rooms, it was a no brainer. We've seen the outside before with its iconic, beautiful blue door and rustic exterior so we booked immediately and couldn't wait for our stay.
With very little vacations or even parties to look forward to these days, to say we were excited about this trip would be an understatement. We honestly couldn't wait to go and we were also so pumped that Parker could be with us. Turns out, the dude loves to vacation just as much as we do.
Our Getaway Intentions
This trip was solely to escape the everyday routine – to break the mould of what our lives have looked like for the last two years with little variation. Our goal for this night away was to explore a new place and simply to just enjoy each other's company and escape from the world for a bit. And I'm happy to say we did just that.
Knowing that Harbour House was a short walk away from the main strip and lake, we figured we would take advantage of both but if we didn't, no harm done.
Checking-In
Parking was super easy and convenient and you did not have to pay for it. I repeat, you did not have to pay for parking at Harbour Hotel. One of my biggest pet-peeves is paying for a parking spot when staying a night somewhere. Right off the bat, Harbour House nailed it.
We checked in with the front desk with two ladies who were so pleasant and extremely helpful. They absolutely adored Parker and actually asked us first if they could pet him instead of just going for it. Which I absolutely appreciated. They checked us in with no issues and we headed towards our room. Harbour Hotel is a beautiful space with a high-end nautical feel to it. From the lobby to the bedroom, the theme carried on throughout and I absolutely loved it.
When we entered our room, we were pleasantly surprised to see a fluffy dog bed and a food/water bowl all setup and ready for Parker. They even had a baggie of treats and poop bags readily available – I mean, it was the cutest surprise we've even seen in a hotel room. Maybe this is the standard in pet friendly rooms, but we brought all that stuff for him and more because we didn't quite know what to expect. But seeing that there for him just melted my heart.
What's There To-do in NOTL
There are so many beautiful and fun shops on the main strip that you can adventure into. We unpacked our things and headed out to see what was there. Because the strip is so close to the hotel, we decided to walk. Yes, even with our tiny little pup and he did so good. The shops are exactly what you'd expect them to be. Lots of ice cream options, restaurants, and fun touristy ones to pop your head into and look around. If I can recommenced any ice cream shop though, it would be Cows. We first discovered Cows ice cream on our trip to PEI and it does not disappoint. The freshest ice cream I've seriously ever had. We opted for some true Canadian fudge as our little snack. There's also an apple fritter place that if you go to anything at all, make it that. Fritters on the Lake was one of the best things I've ever eaten, not exaggerating, lol. But there's plenty to see and do and it's just minutes away from the hotel.
If you're not into the strip and shopping isn't your thing, maybe you'd be interested in Wineries which there is an abundance of in NOTL. We opted out of a tour this time around but we'll definitely be back to explore one. The Wayne Gretzky Estate winery definitely caught our eyes!
Eventually we made our way back to the Harbour House where we chilled out for a bit and settled in. We decided though that before dinner we should take a walk by the lake which is again, minutes away from the hotel. It was perfectly unplanned as we were just in time to catch the sunset that was beautiful beyond words. I don't think I've ever seen one so pink and perfect while reflecting off the water. That sunset gave us everything we needed to fill ourselves up and give us the moment of fresh air and views we needed. We extended our walk further down the path to the gazebo. After we took it all in, we headed back to the hotel for dinner.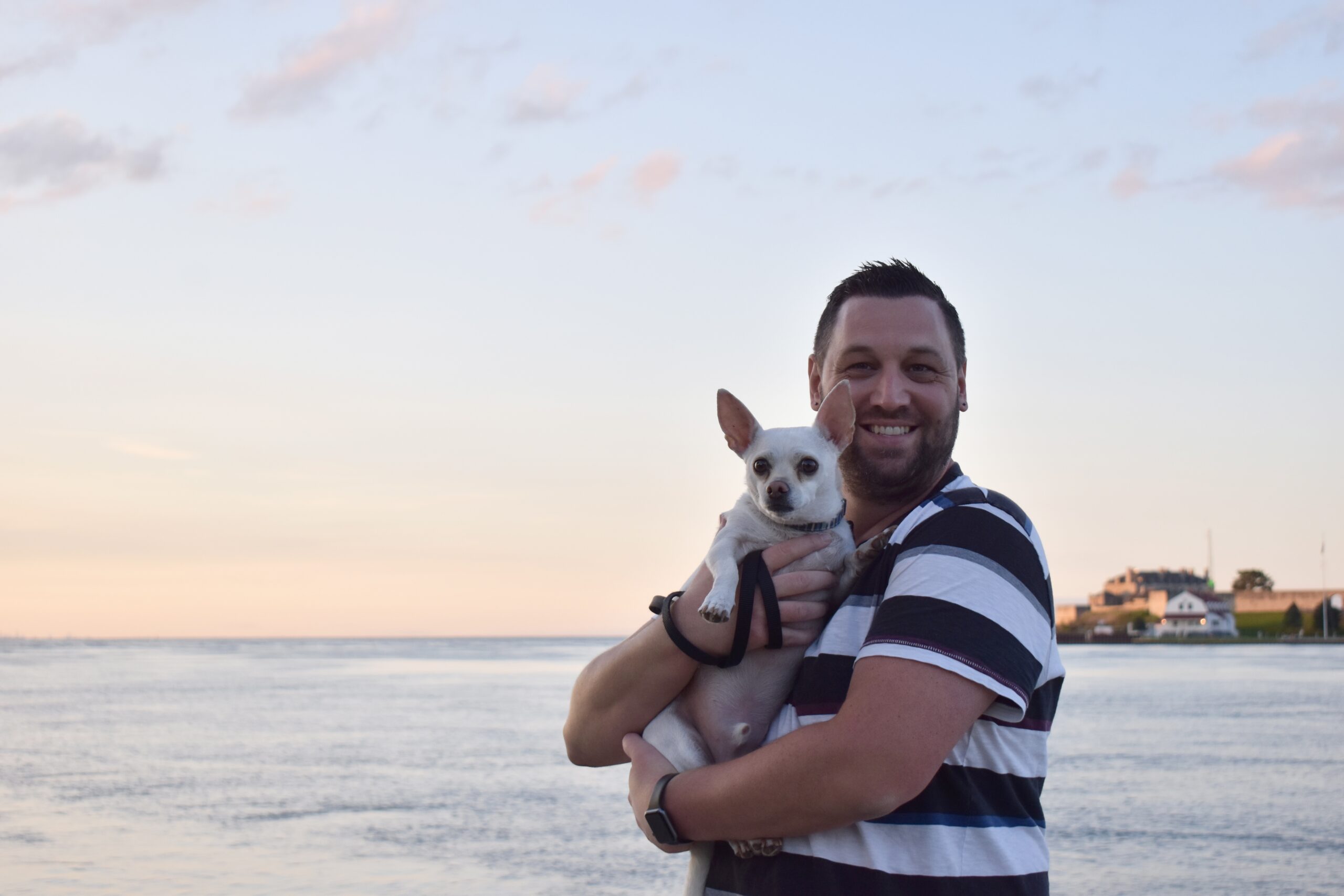 Unplugging for the Night
Sure, we watched tv while we ate our take-out dinner, but for the most part, we stayed off our phones as much as possible. While I snuck in the occasional Story for IG, we spent the better part of the evening talking, laughing, and just being with each other. It was just what we envisioned for ourselves and it was perfect. We went to bed early knowing we accomplished just what we came for – each other's company and a good nights sleep.
Leaving Refreshed & Rejuvenated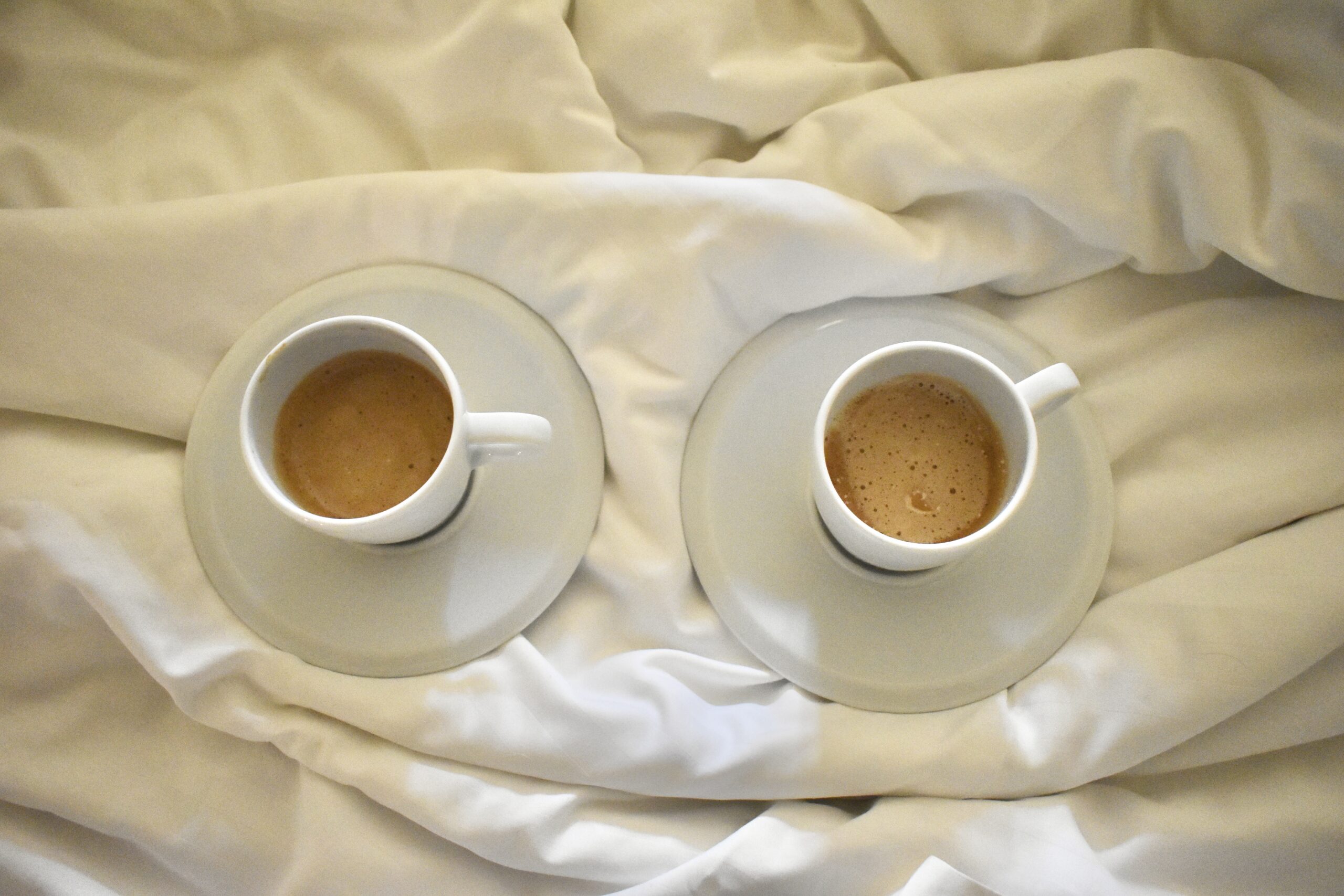 Like I mentioned a few times throughout this post, the purpose of this night away from home was to recharge and regroup. Break away from the everyday and escape into another beautiful world. We woke up and felt just that. We made an espresso each and enjoyed it on the bed with Parker. We called front desk to see if we could get our breakfast to-go and they were more than accommodating in getting that for us. We wanted one last stroll around town (and apple fritters) before we headed home.
We thoroughly enjoyed our stay and chance to get away, even if it was still close to home. The change of scenery, the fresh air, and even the bright stars at night were all so much needed.
So long story short, if you feel like you need to get away and recharge, the Harbour House is just the place to do it.