So it's your baby's first Christmas and you're so excited but you don't know where to start? Say no more, I'm in the same boat!
With Ava being 7 months old at the time of Christmas, this will be her first and I cannot even begin to tell you how excited I am for it. To see Christmas magic through a child's eyes really is something incredible. I know she's still so young and won't quite understand it all just yet, but that doesn't mean you can't create that magic for them anyways.
Below are 5 ways to help make your baby's first Christmas one to remember!
Pin for Later:
1. Take All the Christmas Themed Photos
I'm a picture taker, I absolutely love photos and love looking back on them. You will never regret taking pictures of moments throughout your life so Christmas for me is no different. In fact, I plan on taking as many photos as I possibly can so long as my daughter will let me.
Pinterest is a great way to find inspiration on what pictures you'd like to take. They can be as creative or as simple as you'd like! The beauty of it all is really just capturing what you'd like to remember or like to have fun with. If you're the type to get creative, the dollar store can really help you out! They have cute little props you can add to your pictures without breaking the bank.
I've seen pictures of baby's in presents, in stalkings, with Christmas lights wrapped around them – the inspiration is endless. Pick out a few that stand out to you and try to create them with your spin on it. It's something fun to do with baby and you'll have cute photos to look back on when they're older.
And while the DIY Christmas photos are something to cherish, don't forget your obligatory picture with a mall Santa! Those are always classics and ones for the book, so go early and snag yourself that cute little keepsake.
2. Plan to Visit Holiday Events
If you're the type to go on adventures with baby, don't forget to put aside some time to go see a holiday festival of lights or Christmas markets. My husband and I went to a light drive through back in 2020 and we absolutely loved it. This year we took our daughter to see some lights in our town and it was amazing watching her look at all the different lights. Like I mentioned above, your baby still might be young to really know what's going on, but it's the memories you're creating with them that means something. And who knows, maybe it becomes a family tradition for you!
Speaking of Christmas traditions, you can't forget about going to a Santa Claus Parade. Our family always went to the parade downtown Toronto and it was by far something I always, always looked forward to. As I got a little older it became less about seeing the big man in red and more about spending that afternoon with my family. See if your city has a parade in your neighbourhood that you can take baby to!
3. Make Cute Christmas Themed Crafts
This is a fun one because who doesn't love baby crafts?! I mean, little foot and handprints becoming reindeer has to be the cutest thing ever. Doing this allows you to stamp their hand and foot prints to remember just how tiny they were for their first Christmas. They can also double up as a little gift to the grandparents.
Making crafts with your baby can also be made into ornaments to put on your tree. Try doing their handprint on a wooden circle and making their fingers into snowmen. How cute! Pinterest is a great place for ideas! Check out this cute mistletoe ornament I did with my daughter for her first Christmas.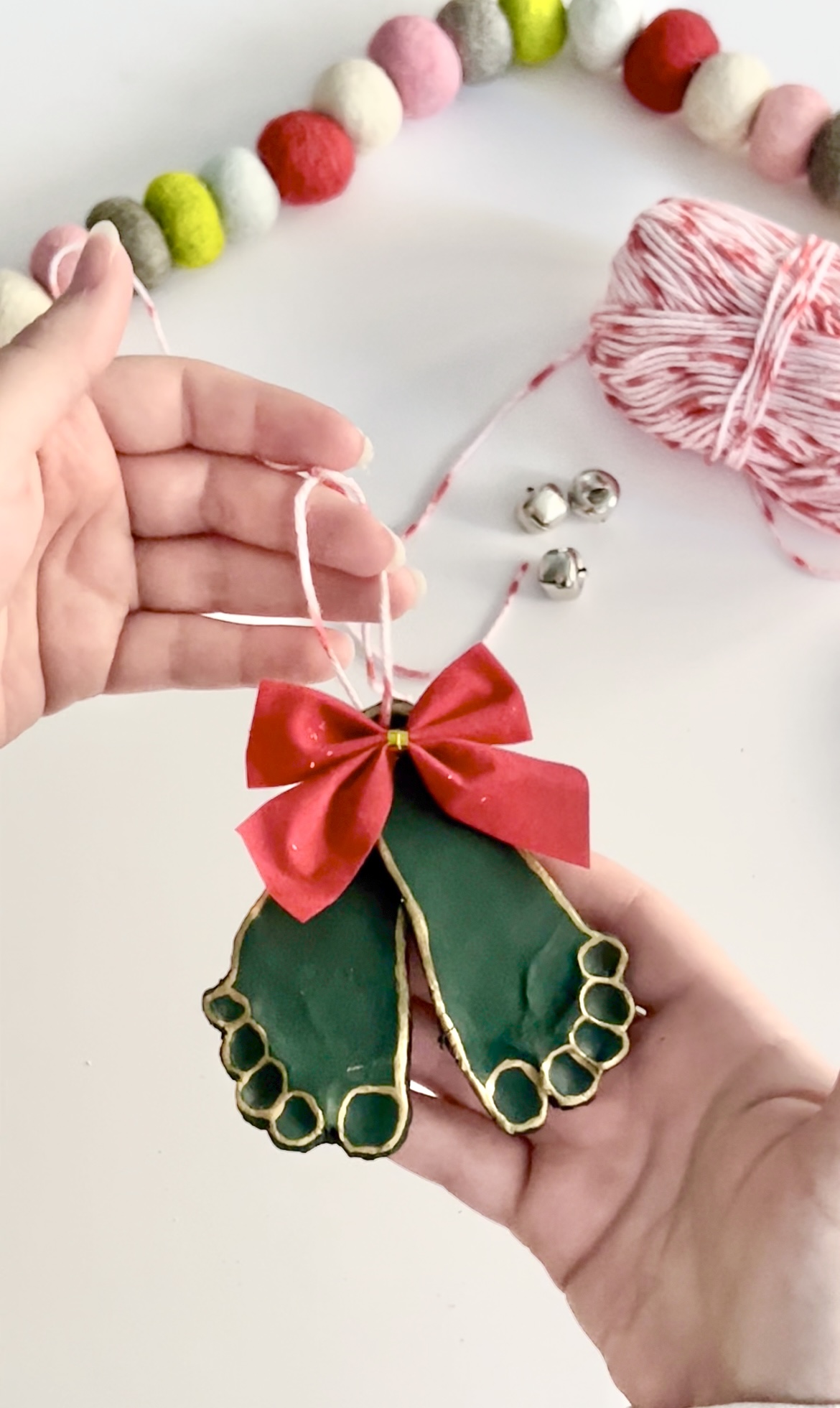 4. Read Christmas Stories
If reading is part of your daily activities or if it's saved for bedtime, swap out the everyday "I love you" books for Christmas themed ones. You can find an abundance of ones at Indigo to fit into your rotation. Purchasing these books can also double up as a keepsake! Right a little note into one of your baby's favourites and let them know just how much their first Christmas meant to you.
5. Matching Family Pjs
Need I say more? How cute is it to be in matching pjs on Christmas morning while you bask in the magic as baby experiences Christmas for the first time. Enjoy your coffee, open baby's gifts, and take a cute family picture under the tree in your matching jammies. You can look out for some cute ones by Little Navy who has the cutest family sets for the holidays.
Baby's Magical Christmas Starts With You
As much as we can fill our days with events and crafts and things to do, the real Christmas magic begins with just spending time together as a family. If photos aren't your thing, events are too stressful, and your DIY crafts always seem a little wonky, don't worry one bit. The magic of the holidays isn't about any of that but more about the time you spend together loving on your little babe.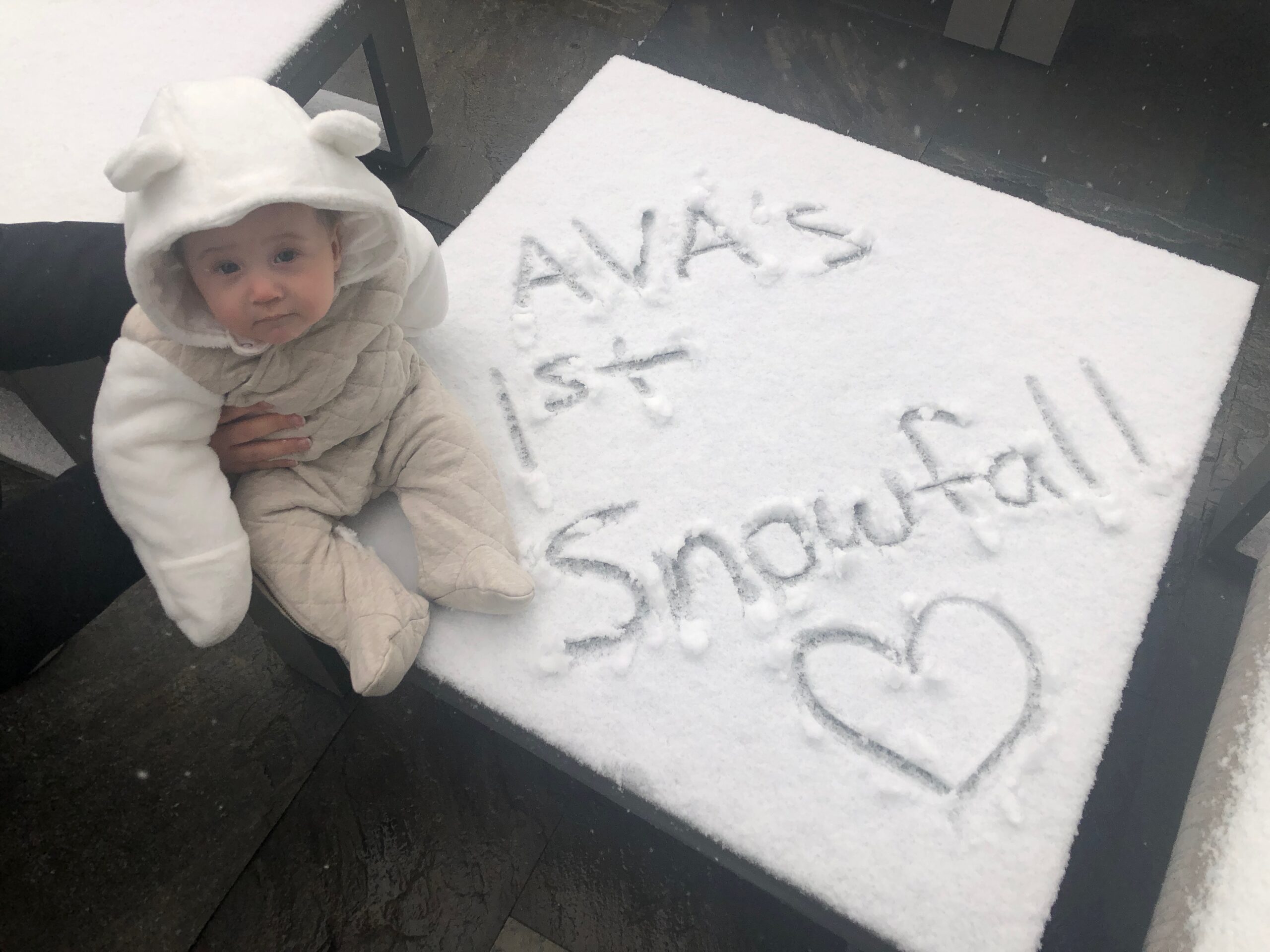 Have you had your baby's first Christmas and if you have, what were some things you did to make it special?