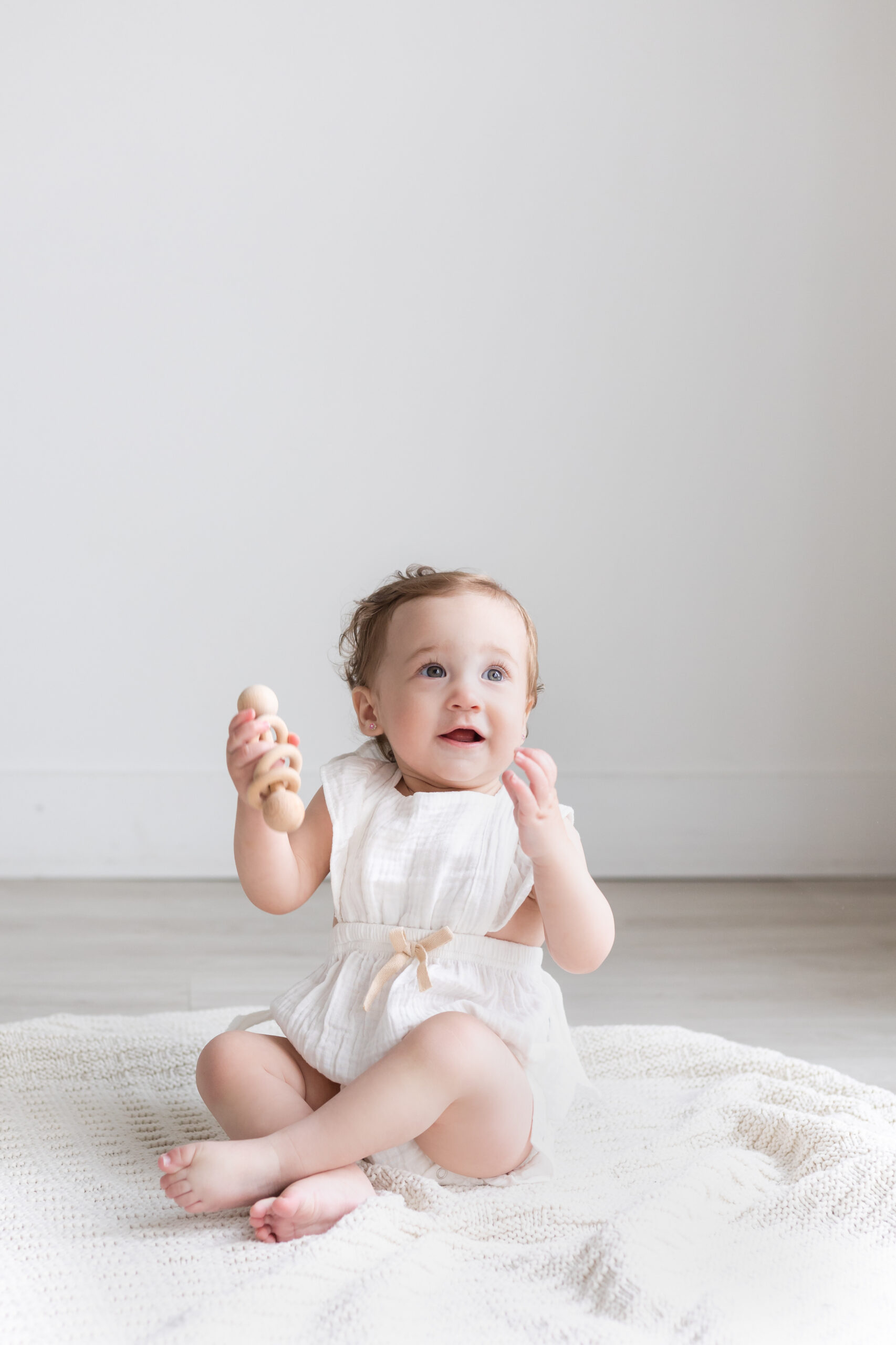 Everyone tells you the first year of your baby's life goes by incredibly fast. Lightening speed some would say. As a mother, you do absolutely everything you can to remember those little hands, their beautiful gummy smile, and how curious they become as they begin to explore the world around them. Ava turning one was extremely emotional for me and I am so thankful we have these photos of her milestone birthday to look back on.
This post is in collaboration with Jennifer Walton Photography but all thoughts and opinions are my own.
Looking back to when my daughter was first born, the moments are almost blurry. You're in the thick of no sleep, learning how to become a parent, and simply just adjusting to your new normal. It's a lot to take in and those precious moments can slip by so easily. Taking care of a human is a big deal, and something that I whole heartedly feel should be celebrated and documented.
We had the pleasure of working with Jennifer for our maternity photos, newborn photos, and now Ava's first birthday photos. All of which I cherish so incredibly much.
A Trip Down Memory Lane
Looking at Ava now even one year later, I'm still so amazed at how my body grew and carried her. My husband and I talk about it all the time. Women are incredible, there's no other way to explain it. The way you house your baby for nine whole months, that's no small feat. I felt incredible throughout my pregnancy with Ava (minus the absolute horrible nausea and vomiting for the first trimester), that I wanted to remember how much I loved being pregnant. It was such a beautiful and wonderful experience and I sometimes wished my husband could feel what I was feeling. We did our maternity photos with Jennifer and she was an absolute dream to work with. Incredibly patient, kind, and caring, she allowed for Shaun and I to really enjoy our experience. She reminded us that this was such a special time to remember, how we were two now becoming three. She hyped me up to feel my best and allowed us to have fun with the process and it most definitely came through in the pictures.
Fast forward to when Ava was born, I can't even begin to explain how accommodating Jennifer was. As new parents venturing out of the comfort of our home, it can be nerve wracking taking your infant somewhere new. You have no idea how they will be and what's in store for you, but Jennifer made us feel at ease. I was worried we wouldn't have enough time to get all our photos in because Ava was quite fussy that day and we even needed to stop and feed her at one moment. Jennifer reassured me each time I needed it that timing was no issue and that we'd get it all done – the baby's needs come first. As a new mom, that made me feel very comforting knowing that we were in good hands. Ava's newborn photos came out so beautifully and I have Jennifer to thank for that. I look at them often to reflect on how fast she's grow from those tiny fingers and toes. Jennifer's sessions also come with hair and makeup for mom and it's exactly what you didn't know you needed to feel a little more lively during those first few weeks.
New Session, Same Feelings
With Ava's first birthday photo session, we knew exactly what to expect – which I would say is quite wonderful as parents. We've established a relationship with Jennifer from our previous sessions that made this one even more easy going, light hearted, and comforting.
Knowing what to expect from your photographer definitely puts an ease to what could be rather stressful. Getting to know each other and being comfortable in front of a camera can also be awkward but she was so amazing at keeping things fun and easy going.
One of the main reasons why we chose Jennifer was the style of her photography. I am a sucker for beautiful, crisp, airy photos and it's exactly what Jennifer delivers. I also absolutely love how she makes her focus the individuals at hand, too. She gave Ava a few blocks to play with during her session and the photos came out so simple and beautiful. Having Jennifer for all three sessions, maternity, newborn, and first birthday, allows us to have a curated year captured with the same vision and feel. There is continuity within the sessions that will make for beautiful pieces to be hung in our home – start to finish of our most wonderful year.
What's Included in Jennifer's Sessions
As mentioned above and within my other posts of working with Jennifer, hair, makeup, and wardrobe are all included for mom. How amazing is that?! Speaking from experience, having my hair and makeup done for our sessions was a breath of fresh air. Ever try leaving the house with a baby? There are five million and one things you need to remember to do and bring so having to not worry about myself was a dream. For dad, she also has a variety of tops to choose from, all of which complement the mother's dresses so well. As for baby, Jennifer has the cutest, and I mean the cutest selection for both girls and boys, and a great selection of gender neutral as well.
Jennifer takes her time capturing in the moment photos of your tribe but her turnaround time for getting the photos is also something to brag about. She has a wonderful online gallery that you are sent that gives you access to all your photos for easy downloading and developing. Not one to develop photos right away? The easy downloading also allows you to send them to your loved ones within seconds of receiving to show off your beautiful little babe.
Jennifer Walton Photography
To book a session with Jennifer, check out her website and complete the Inquiry page – it's quick and simple. She offers, a First Year Collective, Signature Sessions, as well as Simplicity Sessions. Her photos are a timeless investment for years to come and truly are pieces that will never look dated. She also offers custom framing and beautiful photo albums to give your new photos the perfect finish.
We are so happy we had the opportunity to document such a special time in our lives (three times) with Jennifer and you'll be incredibly happy you did, too!
Visit Jennifer's website at jenniferwaltonphotography.ca or find her on Instagram, @jennifer.walton.photography