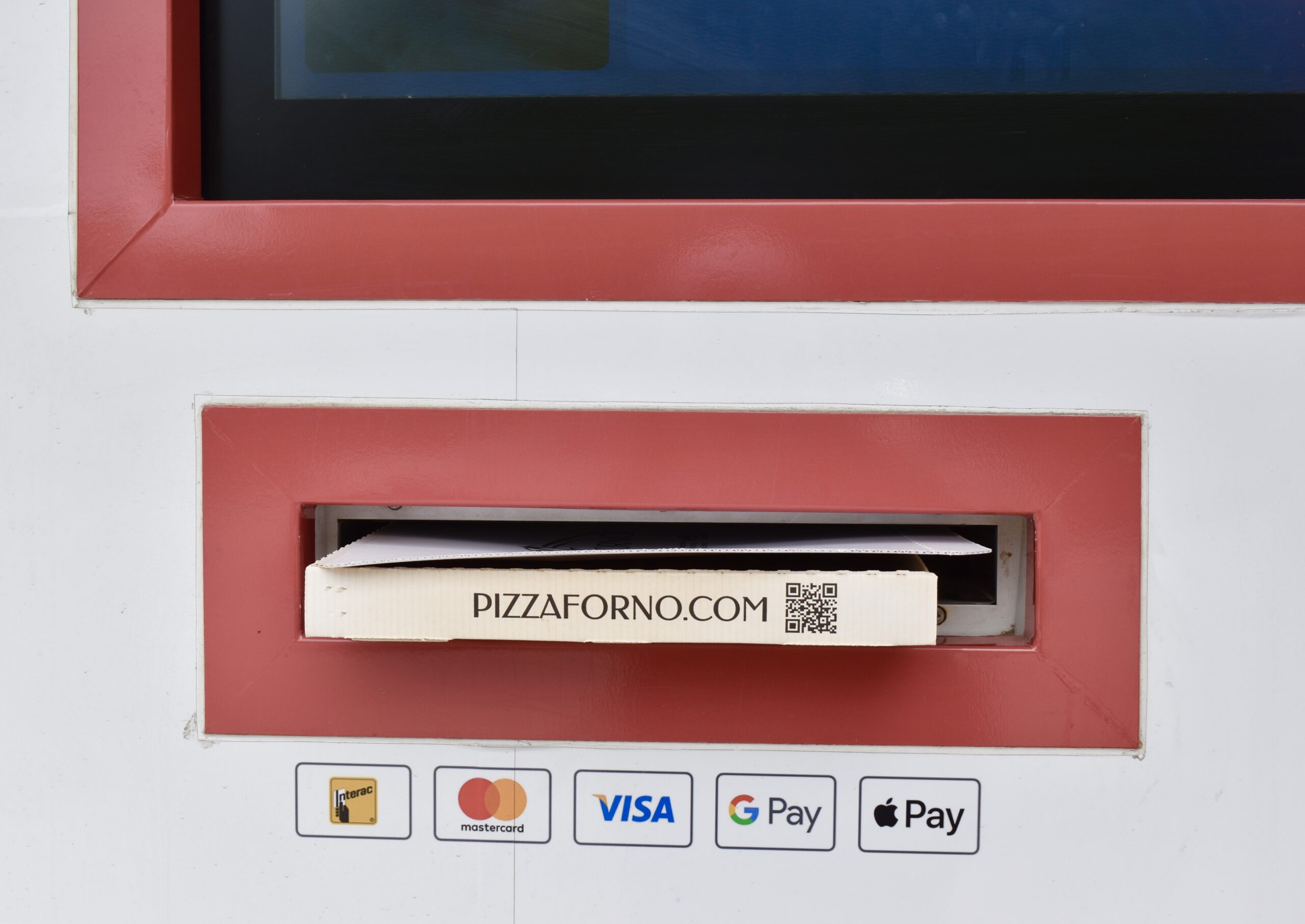 Pizza from a vending machine – yes, you read that right! We saw that you can get pizza from a vending machine from a TikTok clip and you better believe we went to try it out.
Last Summer didn't feel very summer-y at all because most things were closed. It was hard to find things to do throughout the warm days. This year, we decided that we'll adventure throughout Ontario as much as we can that are restriction friendly. Cue pizza vending machine adventure.
We noticed that these machines are scattered throughout the GTA but we wanted to make a day of it and go to one of the further ones. One thing we love doing is going on road trips (see our Bay of Funding one here) so this was a great opportunity to get out, spend the day on the road, and get a bite to eat while we're at it.
Where We Went
The location we chose to go to was in Stayner, Ontario. It's very much cottage country area and the drive there was absolutely beautiful. If you love a good cruise with the windows down and beautiful views for days, this is definitely something you'd enjoy. The drive there reminded us both of what we saw on our road trip to PEI. Lots of greenery, hills, and perfect landscapes of Ontario.
Another reason why we also chose this location was because my husband's grandparents used to own a cottage in Stayner. We've always wanted to go for a drive to see it after so many years so this was a great excuse to venture out to see it. It was so nice to hear and see my husband reflect on where he spent some of his childhood. The pizza was really a bonus at that point.
What to Expect When You Get There
There are no big flashy signs saying, "Pizza here!" or anything like that. The vending machine was literally on the side of a road and came out of no where. It's in a parking lot of a Realtor office where you can park your car and later sit in to enjoy.
We brought Parker with us so we took him to the grassy area so he could stretch his little legs and get some fresh air too. While we walked with him, we came across this little cardinal wind thing and I thought it was such an incredible sign from Shaun's grandparents saying that they were with us during our visit to their old area.
Ordering Your Pizza
It was pretty cool to actually put your order in for the pizza. Essentially, you get hot, tasty pizza in just 3 minutes. How freaking cool is that, lol? There were standardized pizza type options, for instance, pepperoni, deluxe, and Hawaiian – we opted for the meat lovers. You can't add specific toppings as they are all predetermined, just something to keep in mind.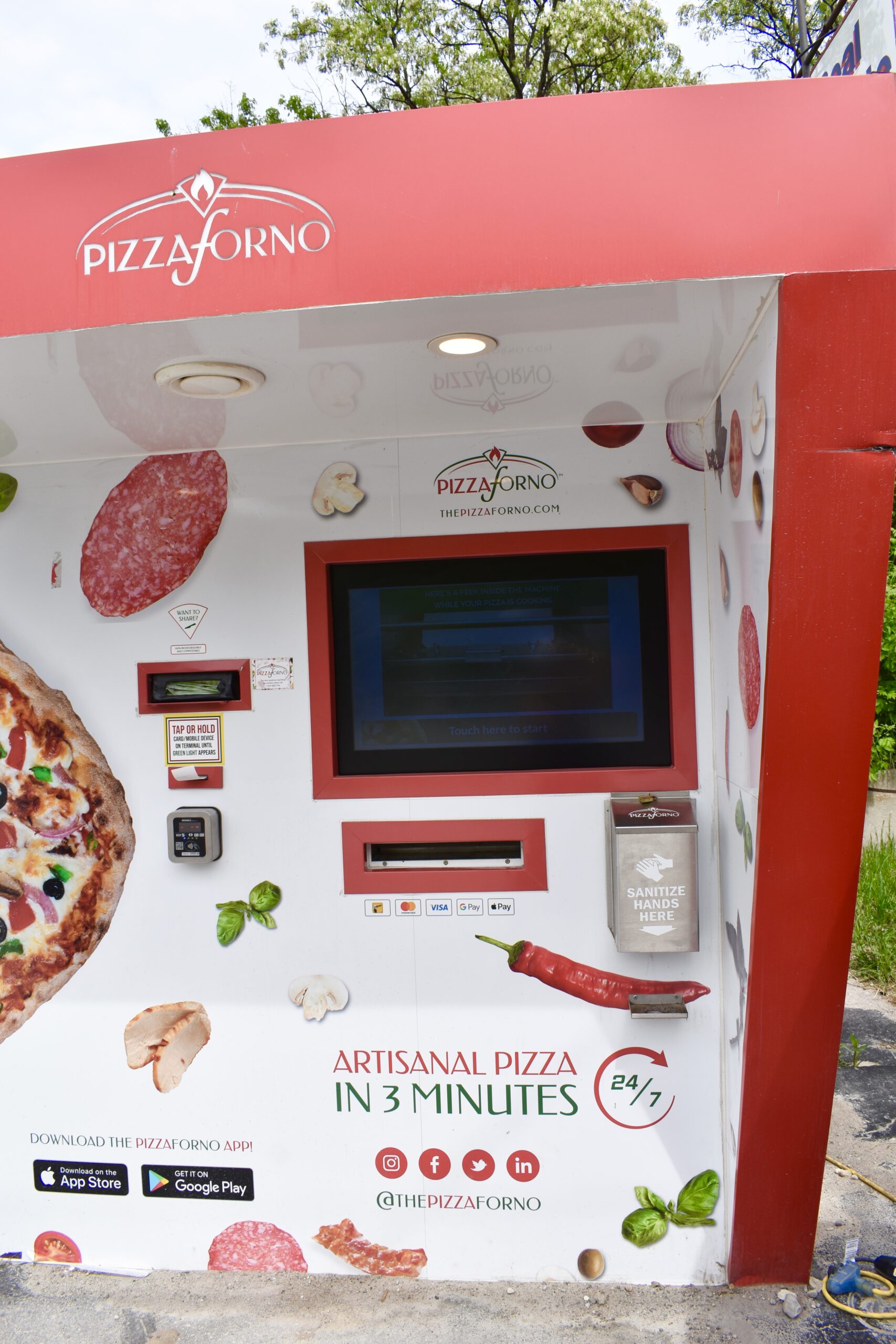 When you're placing your order, everything was touch screen and very easy to follow. Ordering took no time at all and you were even able to pay with tap through your phone. For just the one pizza, our total came to $14.69 which isn't bad at all. We had about 3 slices each which was the perfect amount to fill our bellies for our trip back home.
How Tasty Was the Pizza?
Pretty tasty! For vending machine style pizza, it honestly wasn't bad at all! We both very much enjoyed our slices. With it's thin crust, it didn't make the slices heavy or messy at all.
If you're a pizza connoisseur, keep in mind that it is pizza from a vending machine. You're not getting "sitting in Naples with a glass of wine" type slices here. Be realistic with what to expect and you'll be pleasantly surprised. For what it is, the pizza tasted great and we absolutely loved it.
Things to Keep in Mind
Because the pizza is from a vending machine off the side of the road, there aren't any options for drinks. I mean, there was a regular vending machine with drink options in that, but they would most likely be warm as hell. We brought water bottles for each of us which was great to have. There was also a Tim Horton's close by as well in case you'd rather have that option too!
Also, the pizza doesn't come cut, it comes out as a whole pie. So, keep that in mind and bring a pair of scissors or utensils to cut it with. We didn't do this so we had to rip our slices apart but it wasn't too bad because the crust was thin. There was a slot on the machine that had plastic utensils but with the pandemic and everything we opted to just pull our slices apart, wasn't a big deal. We also brought napkins with us too but they had some there for you to use.
Because of the location of the machine, there weren't any picnic tables to eat at so also keep that in mind. We popped the trunk and just ate from there – it was a fun experience and we enjoyed everything about it. Plus, we had a cute view of our Parker who also happens to love pizza toppings.
A Pizza & Road Trip Success
All in all, the pizza and day was a huge success! We love road trips and pizza so the two combined for us was a great outing for a Saturday. With travel pretty limited these days, what better way to spend the weekends than exploring your own backyard and what it has to offer.
If road trips aren't your thing though and you'd rather experience your vending machine pizza a little closer to home, check out their other locations!
What are your thoughts – would you give vending machine pizza a try?